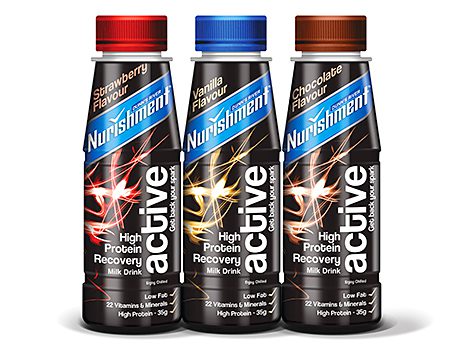 A milk-based drink to help the body recover after exercise is the latest NPD in Enco Product's Nurishment range. Nurishment Active contains 35g of protein per pack, as well as 22 vitamins and minerals.
"The soft drinks market is evolving, with interest in sporting activity at a high and consumers now seeking innovative, functional products which are specifically formulated to aid their performance," said Nyree Chambers, Enco's head of marketing.
"This includes products which help their bodies recover after exercise.
"There is growing interest in the use of milk as a rehydration solution as it's a natural provider of water, sugar and electrolytes. This has led to the development of innovative enriched milk drinks such as Nurishment Active, where vitamins, minerals and protein are added to milk to create the ideal sports recovery product."
Chambers continued: "Launching from a strong foundation, Nurishment Active now meets the demand of a more targeted, growing sector of consumers who are specifically seeking a product to help them recover from sporting activities."
Nurishment Active is available in Vanilla, Strawberry and Chocolate.