Court hears Javaid Ali was stabbed as he was getting the better of alcohol shoplifter in Paisley c-store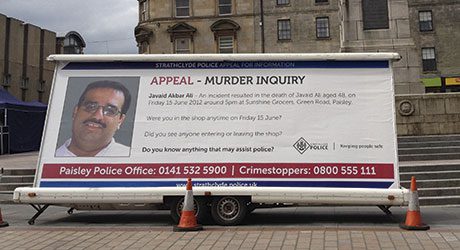 A PAISLEY man has been jailed for 15 years after being found guilty of killing local shopkeeper, Javaid Ali, in a robbery that went wrong.
Lee Anderson, 31, denied fatally stabbing the 48-year-old father-of-three at Sunshine Grocers in Green Road on 15 June 2012. He was charged with murder but the jury at Glasgow's High Court found him guilty of the lesser charge of culpable homicide.
The trial heard that Mr Ali was working in the shop when Anderson, wearing a hoodie, walked into the store. He waited until other customers, including a 10-year-old boy, left then tried to steal alcohol. Mr Ali intervened to stop him and Anderson produced a knife that he claimed to carry for his own protection. In the tussle Mr Ali was cut in the neck. His carotid artery was damaged, leading to massive blood loss.
He managed to call 999 from his mobile phone, told the operator his name, address, and said he had been stabbed in the neck. He was unable to name his attacker as Anderson was not a regular customer.
His injuries and blood loss caused cardiac arrest followed by extensive brain damage and he failed to regain consciousness. He died in hospital on 29 June 2012.
No DNA evidence from Anderson was found in the store. But he confessed his guilt to his mother Margaret and brother Paul, telling his brother that the shopkeeper had been getting the better of him.
The jury heard how Mr Ali was a hard-working, friendly man who knew his customers by name.
Passing sentence, judge Sean Murphy QC told the court: "It is clear from the evidence that Javaid Ali was a popular and respected local figure who clearly had carried out some acts of kindness towards his own customers.
"His loss is a grave loss not only to his own family but to the local community."
After the verdict, chief inspector Duncan Sloan thanked the Ali family for their co-operation, praised the police officers involved in the investigation and congratulated the local community on their help with the case.