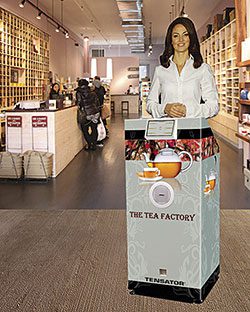 QUEUE-management specialist Tensator, has introduced a new interactive feature to its Virtual Assistant Ultra, an information-providing stand designed to create the illusion of a real person.
The unit is now available with a button panel, which allows customers to interact with the unit, with a choice of 11 extra functions.
The buttons can be programmed for a variety of options, depending on the setting.
It can supply extra information on particular products for shoppers, play videos and answer frequently asked questions.
It also delivers info in a number of languages, which the firm says is useful in locations with a multi-cultural population.