Christmas self-eat treats, worth £3m last year, are tipped to be growth area for seasonal confectionery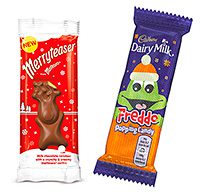 WHILE the rest of the world is still wearing flip-flops and sunblock, the confectionery big boys are gearing up for the festive season. And seasonal self-eat treats, worth £3m last year according to Nielsen, will be an important part of the Christmas mix.
Mondelez International has given its entire Cadbury range a seasonal makeover with a folksy, knitted packaging style and plenty of special editions.
The Dairy Milk Winter Wonderland tablet, for example, is made up of white and milk chocolate tree-shaped chunks. The Dairy Milk Mousse Snowman is a milk chocolate, self-eat figure with a mousse filling while kids' line Freddo has been crossed with one of the Marvellous Creations range to create Freddo Popping Candy.
Cadbury Wishes, the biggest Christmas self-eat according to Nielsen, is a charitable choice, with 10% of all profits going to the Make-A-Wish Foundation. This year there will be a 128g Little Wishes bag in milk chocolate or truffle varieties.
Terry's Chocolate Orange, which is consumed by one in four households over the festive season according to Nielsen, is available in various formats. A white 'orange' will join the dark, milk and exploding candy varieties, and there will also be a limited-edition sharing bag of Chocolate Orange Minis.
Mars' major launch for the season is the Merryteaser, a reindeer-shaped self-eat with a Malteser centre. The company aims to have it replicate the Easter success of the Malteaster Bunny.
Following on from last year's Galaxy Gift For You Truffle comes a white chocolate variety, Galaxy Gift For You White. There will also be a new M&Ms selection box.
Images – Mars' Merryteaser, a Malteser-filled chocolate reindeer designed as a festive treat. Cadbury's Freddo has Christmassy knitted packaging and added popping candy.