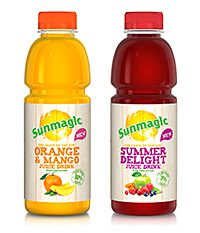 FRUIT juice company Sunmagic now has 13 products in its 500ml bottled juice range, after adding three new flavours.
Sunmagic orange and mango juice drink, apple and elderflower juice drink and summer delight – a summer fruits flavour – have joined the brand's existing portfolio.
The products will be available both in price-marked and non-price-marked packs, with the PMPs carrying an introductory promotional price of 79p, which will rise to 99p after the promotional period.