Retailers left footing the bill to hide lads' mag covers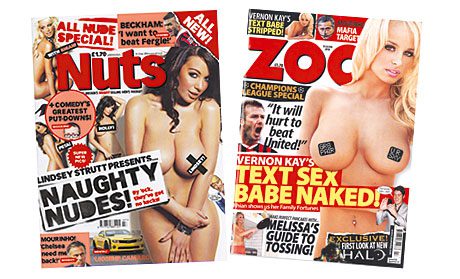 RETAILERS are not being supplied with modesty boards to cover all the lads' mags which feature explicit images on their covers.
According to the National Federation of Retail Newsagents (NFRN), the publishing industry is paying "lip service" to its promise to make suitable shelving systems widely available.
Menzies and Smiths News, which distributes south of the border, supply branded modesty boards for Nuts and Zoo. But the NFRN points out that other titles such as Zip, FHM, Loaded and Maxim use similar cover shots. Down south Smiths can supply unbranded boards but retailers have to pay for those.
NFRN president, Colin Fletcher said: "Retailers are let down by the lack of responsibility shown by some publishers for the offence their titles cause to parents with young children. The least publishers can do is to make modesty boards freely available via wholesalers."
Images – The NFRN says the main magazine distributors can make branded modesty boards freely available for Nuts and Zoo magazines but that other men's titles aren't offering the same materials.