Earlier this year Country Choice marketing controller Stephen Clifford spoke to Scottish Grocer and said many retailers were missing out on the opportunity to extend their food-to-go service into the afternoon and early evening. In this article he argues all-day FTG isn't as hard as you might think.
IT'S important to remember that these days people are grazing or grabbing something to eat as and when they can. And that doesn't just include those going to and from work, but also local consumers such as parents on the school run, as well as those just passing through en-route to their destination.
Although there will be peaks and troughs during the course of the day most retailers will have a fairly steady flow of customers throughout the day and their food-to-go (FTG) offer needs to reflect this. So, here are my suggestions on how to maximise the FTG opportunity.
Start early! If you can capture trade during the early part of the day it is likely that you will quickly establish a reputation locally and this will lead to your site becoming a destination at other times of the day. So, start with a breakfast programme that includes something for everyone – baps, sausage rolls, bacon and cheese turnovers for male consumers, and a selection of Vienoisserie such as croissants and Danishes which are more popular with female customers. Wherever possible, offer good quality coffee as well, and tie the two together with an attractive breakfast meal-deal proposition. Location is also important so try to position the fixture near the till to encourage impulse purchases with items such as newspapers and cigarettes. Keep this offer going until around 11am.
At around 11am merchandise a full complement of savoury pastries. At the same time, and with minimal effort, the hot breakfast offer can be subtly changed into something more suitable for the lunchtime trade. For example, by simply replacing the ingredients in the breakfast bap, such as bacon and sausage, with a burger and cheese, or chicken, retailers can offer a suitable lunchtime meal which again can be tied into a soft drink to make a great meal deal. Aside from the filling the main ingredients, and indeed the packaging, remain exactly the same making this a very simple transition. Sales can be further increased with little add-ons such as a selection of sauces. We offer retailers both the sauce sachets and a display unit to house them.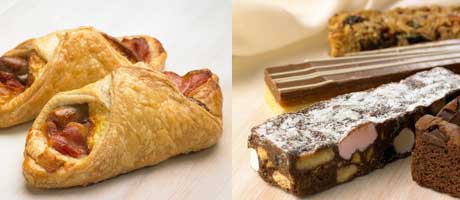 Alongside the burger programme late morning is also the time to think about offering chilled baguettes which have been freshly prepared in-store. 40% of sandwiches and baguettes are bought outside of the core lunchtime period – so it's important to make sure availability is there to capture early and late purchasing. The gold standard for many shoppers is a product that has been 'made on the premises' in a bright, clean environment using chilled fillings and bread that has just been freshly baked, and for that reason products of this type command the highest premium.
That takes us through to mid-afternoon and in particular the school run when many parents are looking for an after-school treat for their kids. It's a key period, particularly, for impulse sweet and savoury products like funsize doughnuts, flapjacks, and cookies, as well as ambient savouries. This is where "thaw and sell" products really come into their own. All of the above products, as well as many others, are available as "thaw and sell" meaning no baking is required. All the retailer has to do is simply remove the required number from the freezer in time for them to de-frost, bag them, and put them out on the shelves or the specially created dump bin near the till.
Once we arrive at the early evening period and rush hour there is scope, once again, to change the offer with little effort. For example, we offer a pizza programme which uses the same oven as the bread and savouries to cook pizzas that can then either be sold hot as a takeaway and/or chilled to take home. An increasing number of consumers are buying their evening meal on the way home from work and the pizzas provide a great opportunity to cash in on that trend.
And retailers need not rely purely on the working week. At the weekend the pizza option is perhaps even more attractive especially as the takeaway pizza market is forecast to grow 4-5% a year over the next five years (largely at the expense of eat-in). Rotisserie chicken, which has already been very successful in the major multiples, is also on offer to Country Choice retailers and indeed we have recently launched a new Farm Assured British steam-cooked chicken that is delivered chilled, ready for reheating on site in the bakery oven for 25 to 30 minutes. Once piping hot, place the chicken in the hot display cabinet where it will hold, wrapped in a special bag, for up to two hours.
So, as you can see, maintaining availability throughout the day on hot food is actually much easier than you think, and getting easier all the time thanks to the introduction of savouries with a four-hour shelf life, breakfast products with a two-hour shelf life, sweet and ambient pastries that can be served all day, and funsize doughnuts that can be displayed for up to two days. By making just a few minor changes during the course of the day and instigating good practice such as baking little and often and defrosting in small batches, there is enormous potential for retailers to extend their FTG offer.
[hr]
• In the spring Country Choice launched a new range of thaw and serve wrapped cake slices with a 21-day shelf life once defrosted. The four varieties at launch included Chocolate Brownie, Rocky Road, Fruity Flapjack and a Millionaire's Shortbread.
Packed 24 to a case retailers remove the slices from the outer case and defrost them, still in their wrapping, at ambient temperature for one to two hours.
Once fully thawed, they can be dated and displayed for up to 21 days. The launch also featured a free-of-charge merchandising unit offer.