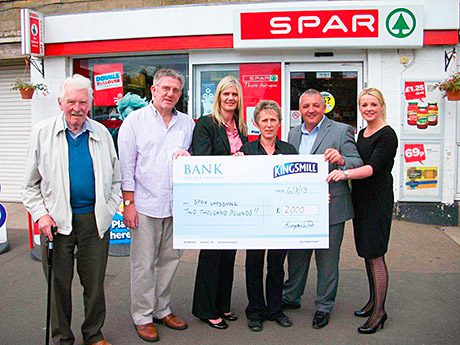 WHEN it comes to making things better in the local community, Scotland, and in particular Ladybank in Fife, is tops.
The town's Spar shop ran ahead of excellent stores carrying out good works across the UK to be named the winner of the Kingsmill Community Grant.
It meant Spar Ladybank took the top grant of £2,000 to help its development of a community garden for the area.
The cash will be used to fund a polytunnel as part of the garden.
Chrissie McLaren of Spar Ladybank has spent five years supporting her local development trust, who are currently fundraising for the garden.
Entry criteria stressed schemes designed to help a whole community come together, and the judges were impressed by Chrissie's plans to include a new sensory garden and raised beds, to ensure villagers of all ages and abilities are able to participate in and enjoy the project.
Jill McEwan, area manager for Spar, said: "We are absolutely delighted to be selected as the winner of the Kingsmill Community Grant.
"Everyone at the store is thrilled at winning and I'm sure the local community will be just as delighted and looking forward to using the new community garden."
The grants supported the brand's sponsorship of The Big Lunch and aimed to highlight the important role retailers play in local communities.
As well as the £2,000 to Spar Ladybank the scheme awarded £500 to a project to develop a new village playground and another £500 to a scheme which sought to maintain and operate a defibrillator in store.
Further grants of £150 went to a store that was purchasing kit for a local disabled football team as well as a store that was helping create a local skate park.