Many independent stores are open for long periods and at anti-social hours. That brings a need for security to protect staff, stock, cash, customers and the building.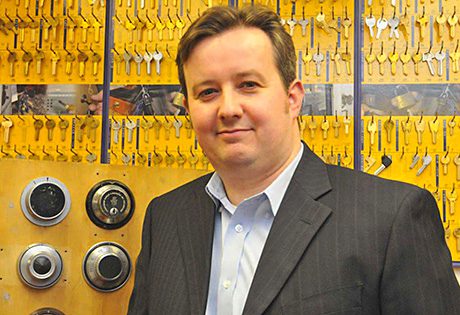 Dr Steffan George, development director for the Master Locksmiths Association, offers his top tips to boost security in grocery outlets and local stores.
THE sheer scale of security options available can be a daunting prospect, with many unsure where to start and which measures are the most appropriate.
However reviewing and boosting security can save you having to rectify damage caused, recover the cost of items or cash stolen and overcome staff distress.
Security from the outside in
The exterior of a building is the best place to start a security review:
› Check doors and windows for faults, broken locks, weak frames and damage.
› Review gates, fences and grilles for repairs.
› Consider whether reinforced glass or additional locks are needed for storage units.
› Should CCTV and alarms be fitted to deter attack, alert to a break-in or catch a perpetrator?
› Consider metal shutters and window grilles for when the premises are closed.
› What about outdoor lighting, which can deter attack and reassure staff and customers?
Access control
There are a host of products on the market to control access to a building including:
› Restricted or patented keys. These cannot be easily replaced or copied without providing proof of ownership; meaning only official keys can be managed and distributed. If one of these keys goes missing a lock can often be reconfigured and new keys issued, rendering the lost key ineffective and saving the cost of replacing the whole system.
› A master key system. This means there is one key which opens all the locks in a set, while other keys open individual or select locks. For instance managers could enter the office but staff can only enter employee areas.
› Electronic access. This is a cost-effective solution which can include digital locks, key fobs, swipe cards, keypad and even biometric entry systems. The flexibility of these systems allows users to be easily added or deleted and it can also be used in a similar manor to master key systems to control access to different areas.
Internal security
If sensitive data, valuable stock or money is stored on site it's worth considering what measures are in place to protect this.
Secure cabinets can be used for HR materials, staff forms and financial information.
A professionally specified safe appropriate to your current and long-term needs should also be considered. Safes need to be professionally installed to meet insurance requirements otherwise you may have difficulty claiming should an issue occur.
Secure cabinets for items such as cigarettes and alcohol can be positioned behind the till to protect such high-value items.
Stock rooms should also be further secured through the use of locks, electronic access and reinforced hardware.
Seek expert advice
Security products are ever evolving, health and safety regulations are changing and responsibilities are growing. So it is advisable to seek third party advice on which security measures to install from a trusted and reputable security expert. Master Locksmiths Association members are not only experts on locks and keys but they can also advise on, and install, the wide range of products currently on the market, help you to meet budgets and tailor advice for your business.