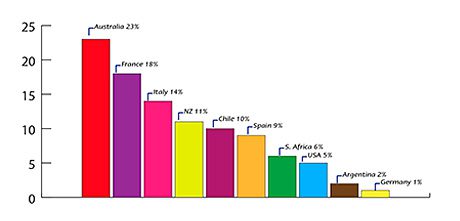 AUSTRALIAN wines are ace, ripper and bonzer according to Scottish consumers. Wines from down under are described as favourites by 23% of Scottish wine-drinkers, and 72% say they drink Australian wines.
In second place, according to independent wine merchant Bibendum in its most recent survey of wine drinkers across the off- and on-trades, comes France, with 18% naming wines from across the Channel as their favourites and some 59% saying they drink French wines.
Bibendum uses what it calls its Taste Test to discover what styles of wine UK consumers enjoy drinking. Researchers analyse the responses by region, and by type of respondent, to give a picture of what kinds of wines sell best in different areas and to different types of consumer.
The tastes range from sweet, through fresh, to smooth and finally intense.
Scots were found to have a fresh palate, which covers many wines made from Chardonnay, Sauvignon Blanc and Pinot Grigio with 54% of drinkers favouring that type of wine. Smooth – which also includes some of those wines as well as some lighter reds such as Pinot Noir and some Merlots – is the preference of 26%. Some 17% prefer sweet. and Bibendum advises stocking off-dry Riesling, Moscato and sweeter rosés to cater for that Scottish sweet tooth. Around 3% are said to favour intense wines such as big spicy Shiraz styles.
36% – Scottish most popular grape varieties shared by Sauvignon Blanc and Pinot Grigio
White grape varieties Sauvignon Blanc and Pinot Grigio are the most popular overall with Scots, with 36% of respondents, in each case, saying they enjoyed wines from those grapes. In the red grape league Cabernet and Merlot were cited by 24%, with the Spanish variety Tempranillo close behind with 22%.
There is some disparity between favourite wine countries and which countries wines are actually consumed most.
Australia and France head the list both of favourite countries and of wines consumed but Chile and South Africa both do better in the list of wines consumed and Portugal makes it into the consumed list despite not figuring in the favourite country table.
New Zealand, on the other hand is high on the list of favourite wine countries but lower in the table of wines consumed.
But New Zealand wines are more popular in Scotland than in the south-east of England, as pockets of wealthy Scots city dwellers buy premium bottles of NZ Sauvignon Blanc, reckons Bibendum.
24% – Second-most popular grape varieties Cabernet and Merlot
Its research also shows there is a higher percentage of wealthy families than in the UK as a whole. Typically they're younger couples, with children aged under 14, who have a high level of disposable income.
Scotland also has more of what Bibendum calls mature suburban diners – 7.2% of the population. Those affluent older couples, who may or may not have older children living at home, are key consumers of wine.