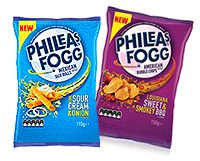 KP Snacks' jet-setting snack brand, Phileas Fogg, has added new lines to its sharing range.
The biggest launch to date for KP Snacks includes flavours such as Mexican Cool Sour Cream and Onion rolls, Louisiana Sweet and Smoky BBQ American style bubble chips, and Pesto and Red Pepper flavoured Italian-style corn chips.
A £3.2m marketing programme will support the launch, led by two TV adverts on the three main stations as well as digital channel E4.
Two £1 price-marked packs – Cheese and New York Deli Relish flavour American style bubble chips, and Aromatic Spice and Sweet Chilli flavour Indonesian-style crackers – have also been launched for impulse outlets
"Research shows that consumers who shop for sharing snacks are looking for something genuinely different from traditional snacks and flavours," said George Johnston, marketing director at KP Snacks. "Our new Phileas Fogg range delivers a step-change in category innovation."
The snacks brand team, quoting market research data from analyst Nielsen, says the sharing snacks category is currently worth £722m.