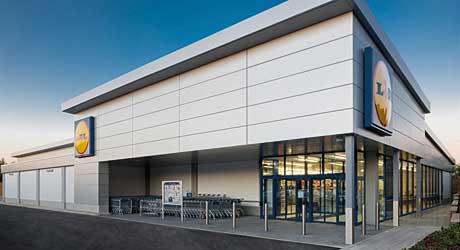 Aldi, Lidl and Waitrose grab their biggest ever share as the giant multiples continue to toil
WHILE the early summer good weather appears to have helped food sales growth overall, Britain's supermarket giants haven't proved quite so hot. Surveys from two of the country's main research organisations show they are continuing to lose share to other food retailers, especially the discounters Aldi and Lidl and the premium supermarket chain Waitrose.
Latest grocery share figures from Kantar Worldpanel, for the 12 weeks ending 7 July 2013, show the big four supermarkets under pressure as a result of what the researcher calls "long-term market polarisation".
Total till roll sales for the period were just under £32.2bn which was up 2.6% on the same period the previous year.
But once again some of the best performances came from Aldi, up almost 30% on the previous year, Lidl up almost 11% and Waitrose, also up just under 11%.
Thought total sales at the multiple giants are still very much greater than those outlets their growth is much less. Best performer was Sainsbury's, up 3.8%. Tesco grew only 1.8%, Asda fared a little better, up 2% and Morrisons was, like Tesco, up 1.8%.
Edward Garner, director at Kantar Worldpanel, said: "Waitrose, Aldi and Lidl have all been hugely successful in recent years, growing well ahead of the market average. Together, these retailers now account for 11.5% of the grocery market, 3.2 percentage points more than they did this time four years ago. This trend has cut deeply into the available market share for the bigger retailers who are now having to compete for a contracting middle ground."
Lidl grew its market share to 3.1%, an all-time high, while Aldi retains the record 3.6% that it established during the last period. The growth rate at Waitrose was 10.9%, nearly three times the market average, and means the retailer now accounts for 4.8% of the market.
Kantar Worldpanel found that symbols and independents were up 0.7%, a good distance behind the supermarkets but ahead of the Co-op which is said to have grown only 0.2%, over the period.
Nielsen found broadly similar results among the major retailers in its analysis of the 12 weeks to 22 June, though it found Aldi, up 24.3%, doing much better than Lidl, which it found to be up 3.4%.
But it saw the performance of the giants as poor. It measured sales at Asda as actually falling by 0.2% for the 12 weeks compared to the same period the year before.
Sainsbury's did best, up 2.3% while Tesco was up 0.5% and Morrisons was up 0.9%.
It also saw major growth at Waitrose, up 8.4%.