Retailers 'part of the solution' as city district tackles underage drinking
THE East of Edinburgh has become the first area in Scotland to launch a Community Alcohol Partnership – a multi-agency scheme, now developed in many areas south of the border, intended to deal with under-age drinking and associated anti-social behaviour in local areas.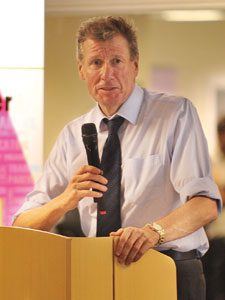 Co-operative retailer Scotmid, the Scottish Grocers' Federation, and a number of supermarket companies are among stakeholders signed up to the scheme. The CAP will also involve the police, local schools, the area's licensing standard officers, the NHS, community education bodies, youth groups, voluntary sector organisations and local retailers.
The initiative was officially launched by Scottish Government justice secretary and local MSP Kenny McAskill at a large gathering of stakeholders at Meadowbank Sports Centre .
The event also included the awarding of Scottish Business Resilience Centre Safer Retailer Awards to Portobello local retailers Rajinder Singh Shetra, Mohammed Javid and Graham Philip, and to Geoff Guthrie who runs a store in the St Margarets district in the area.
Advocates of the CAP model say one of its strengths is that it recognises that retailers and licensees are part of the solution to youth drinking issues.
The SGF said it viewed the CAP as an important opportunity for responsible retailers to demonstrate their commitment to dealing with alcohol-related problems in the community.
Ian Lovie, head of licensing and age-related sales for Scotmid said the firm was delighted to be involved.
"Scotmid is providing training for other retailers on our underage and proxy alcohol policies and has participated in joint patrols with Police Scotland and other CAP partners," he added.