Milestone celebration sees staff and customers raise £1,500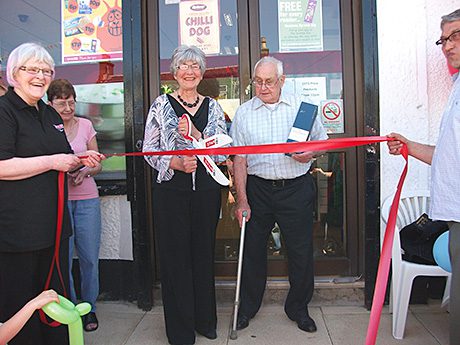 BACK in 1973 Cumbernauld was settling into its new role as one of Scotland's post-war new towns. Existing settlements, including Condorrat, had been expanded and developed to form one of the area's (now part of North Lanarkshire) largest population centres.
And one of the new facilities, ready to serve the growing community was the Spar store in Condorrat's Main Road, opened in June of that year by Neil and Margaret Clyne.
Last month residents of Condorrat and staff at the Spar celebrated the store's 40th birthday by raising more than £1,500 for Strathcarron Hospice.
The store is now run by the couple's son George and his wife Ruby and there's a third generation working in the business too. There have been changes, of course – the modern store now features better access, improved car parking, cutting-edge coffee to go and much more.
40 years ago the UK charts were dominated by Slade, Donny Osmond and the Peters and Lee single Welcome Home.
And last month George and Ruby said welcome back to the 70s with a selection of essential items on sale at the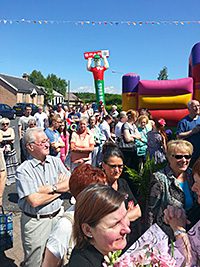 prices charged when the store opened its doors.
The move saw keen shoppers travel from as far as Glasgow to form an orderly queue alongside locals in search of a birthday bargain.
The big event also saw the store organise a charity fun day.
During the weeks leading up to the day itself, raffle tickets were sold for a draw that saw 40 prizes up for grabs – including a 40-inch TV, a bike, a champagne dinner and more.
And at the birthday party the local kids were given the chance to have their faces painted, enjoy some bouncy-castle fun and travel on an open-topped, double-deck, Irn-Bru bus.
The shop's first customer, Evelyn Wales turned up to cut the red ribbon to launch the anniversary celebrations and was presented with a bottle of malt whisky, just as in 1973.
George and Ruby Clyne's daughter, Wendy Stephen, who came to the business four months ago and who helped organise the events, said: "It was fantastic, we got a lot of support, we are over the moon with that, it's a great community here."
"The weather was fantastic that day and it was such a good atmosphere," she added.