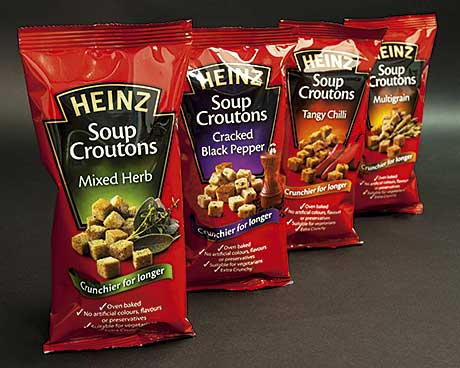 HEINZ has a new range of crunchy croutons designed to complement its soups. They'll be manufactured, marketed and sold under licence by Chaucer Foods, specialists in bread-related products.
There are four flavours: Mixed Herb, Cracked Black Pepper, Tangy Chilli and Multigrain. RRP is 40p for a 40g bag.
John Alderman, commercial licensing manager for Heinz, said: "The category is missing a crouton specifically developed for soup that delivers the level of crunch consumers expect. These oven-baked croutons will be the perfect complement to Heinz soups."
Chaucer Foods' Grant Walsh added: "Heinz Soup Croutons bring big brand recognition to croutons in the soup aisle. These will enable the consumer to enjoy the soup occasion even more."
• For salad and barbecue season, Heinz has a new ad slogan: "For tasty summer favourites, IT HAS TO BE HEINZ". According to Holmes and Cooke, Heinz Salad Cream sales increase by 5.53% in weeks with over 50 hours of sunshine.