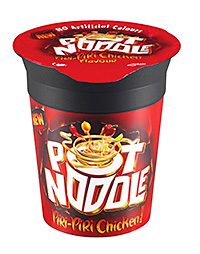 POT Noodle, said by brand owner Unilever to be the country's best-selling instant hot snack, has an extended range thanks to the launch of its new Piri Piri Chicken flavour.
The entire Pot Noodle portfolio is being backed this year by marketing expenditure worth £1.4 million, says Unilever.
Karl Roche, brand manager for Pot Noodle at Unilever UK said Pot Noodle takes 49% of total instant hot snack sales and increased sales by 4.1% in the last year.
"The roll out of Pot Noodle Piri Piri Chicken to all retailers will add incremental sales to the £207 million category by presenting extra purchase opportunities for our loyal fans and attracting new consumers.
"We are really excited to be launching a new hot variant alongside such a wide-reaching campaign that directly targets Pot Noodle's core audience of 16-24-year-old guys.
"Retailers can take advantage of the extra exposure the Pot Noodle brand will see throughout 2013 by stocking up on the new Piri Piri Chicken flavour."
The product will be in the same style as the existing range but will have a strong Piri Piri Chicken flavouring. The packaging will be similar to the current portfolio but will feature deep red and black colours to highlight the fiery taste.