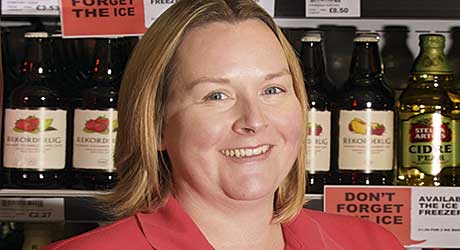 Our winner: Muirside Stores
Elaine McIntyre and her husband Derek own Muirside Stores Ltd, trading as Spar, Tullibody – the Scottish Grocer Cider Retailer of the Year 2013 – in association with Rekorderlig
STORE DETAILS
Business name: Muirside Stores Ltd
Location: Finglen Crescent, Tullibody
Symbol: Spar
Size: 1500 sq ft
Opening hours: 7am –10pm Mon-Sun
Staff: Nine, mostly part-time
Period at store to date: 10 months
Businessman Derek had built flats in Tullibody and he and Elaine identified an adjacent site with retail potential – so they built their own shop.
[hr]
IT'S not everyone who takes a Scottish Grocer Award. And it's certainly not everyone who takes the prize just a few months after opening their first store. So Elaine and Derek McIntyre can safely be called pretty special newbies in Scottish convenience retailing.
Derek is a businessman, an established builder. Elaine had worked in the insurance industry (so had experience of numbers certainly) before taking a career break to raise the couple's children – Jack, now 12 and Holly, now 9.
But last year, with Derek's company busy building flats in the Stirlingshire town of Tullibody, they identified an adjacent site they thought might have retail potential. They decided not just to develop the site but to run the shop too.
Derek's Stenhousemuir-based firm Murdoch Smith built the unit, which is actually owned by Derek's father. Shopfitting specialist Vertex fitted it out, an agreement was reached with wholesaler CJ Lang to operate under the Spar fascia and the shop – Muirside Stores trading as Spar, at Finglen Crescent, Tullibody – opened on 24 August, 2012.
On 14 March, 2013 it was named Scottish Grocer Cider Retailer of the Year, an award presented in association with modern Swedish cider brand Rekorderlig.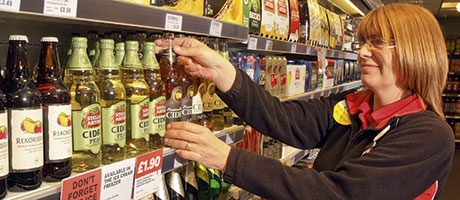 And that's especially impressive because, while Elaine and Derek have been keen to take all the advice they can get, and have been especially grateful to CJ Lang for its help, the drinks side of the business – including cider – has largely been all their own work.
"One of the reasons we went with Spar was we felt they'd give us a lot of support. We felt we needed it, and they've been great," Elaine said.
"We own the shop, it's our business, all we do is buy produce from CJ Lang but we get good support. The sales people come out and see us every three weeks but for the first 12 weeks, there was someone here every week and we could always phone them with any problem."
Most of the shop's display units are laid out to planograms provided by CJ Lang – but not the alcohol zone.
The ranging and merchandising of the drinks section has been Elaine's work. She appears to have handled it well but admits that the complexity of the drinks category, with chilled and ambient shelving, significant promotional activity and, of course, many legal issues to consider, provides constant challenges.
When they visited the Tullibody shop and the others on their short list our Cider Retailer of the Year judges were looking for some specific qualities … and a WOW factor would always help.
At that time cider had been booming, especially modern and flavoured ciders like the sponsor's own Swedish-made'It does feel good when I get home knowing that I've done a good job that day.'Rekorderlig range, which are still going strong now even if overall cider sales growth has cooled a bit. The judges wanted to see that stores understood how the market for 'long alcoholic drinks' had changed. They were seeking shops that realised the positive influence a good range of ciders could have on a store's appeal, understood the importance of excellent display and effective chilling, worked with brand-owners, wholesalers and others to run successful, responsible promotions on cider and understood, also, the seasonal opportunities – not just in summer but at Christmas and other times too.
And Spar Tullibody ticked all the boxes.
The shop has a large chiller, which holds those beers, ciders and wines that c-store shoppers typically want ready-chilled. Elaine used a straightforward trial and monitoring system to work out what the store's customers most wanted on the drinks shelves. She quickly realised that cider was popular, so it was given appropriate space. The cider range spreads across roughly a third of the chiller's width and is displayed on the three top-most shelves. It means some of the most popular ciders, including modern ciders in bottle, are at eye level.
The store features a wide range of flavours and packs from several cider brands – including the overall market leader Strongbow, Swedish modern cider Rekorderlig, and products from Magners, Bulmer, Blackthorn, and Merrydown as well as Spar's own-label and the symbol group's premium own-label.
'It does feel good when I get home knowing that I've done a good job that day.'
The top cider shelf in the chiller carries multipacks including eight, 10 and 12x440ml-can packs of various Strongbow flavours. The multipacks sell well, Elaine said, and she reckons her customers definitely want them in the chiller.
And Spar Tullibody has also tried those ciders that have been launched relatively recently by some of the big beer brands including Stella Artois, Carling and Carlsberg. Stella Artois Cidre is popular. Carling British Cider did well on promotion and appears to have held on to some enthusiasts but the Carlsberg cider Somersby hasn't sold so well to date, she said.
Promotions (at least straightforward, money-off promotions) certainly affect sales on cider, as they do on other drinks.
But, as she gains more experience with each passing week, she realises that sales flows on drinks are – and are likely to remain – difficult to predict. Promotions can at first seem positive because bottles and cans go out the door. But some of that is likely to be bought by sharp bargain hunters who regard it as liquid to squirrel away until a later date.
On the other hand, the social life of Tullibody also has an influence. Sometimes sales performance (which typically includes modest weekday and stronger weekend sales) is very closely linked to how many parties are being held in the nearby flats.
In an ideal world she'd triple-face most of her ciders, especially the popular single-bottle lines. But promotions change the rate of sale of the various lines so she makes frequent changes, often double-facing some and giving four facings to others.
"People are quite money-savvy," she stressed.
"There was a Spar cider at one point selling at a £1 and we couldn't keep that in the shop, it flew off the shelves. When Carling British Cider was first introduced at £1.29 per bottle, it also flew out the door on promotion and we've kept it. Sales have slowed since the price increased but it still sells, some people have got a taste for it and they like it."
Another popular seller is Spar's own branded cider, formerly called Doyles, and now revamped. On display were three varieties, Pear, Apple and Premium Reserve.
The shop participated in the Spar Cider Festival earlier this year. The cider range was extended and some relatively unusual flavoured ciders including Bulmer Pressed Red Grape and Crushed Red Berries and Lime were introduced and given space on the ambient shelves in the designated alcohol area, which also featured banners and flags in support of the activity. It created interest and did lead to an increase in sales but she's clear that price promotion is, by far, the activity that has the greatest effect.
Last year the store didn't open until late in the summer but then again the 2012 June, July and early August weather was poor. Whatever the weather brings in 2013 Elaine's keen to find out about the summer effect on cider, other drinks and the shop in general.
The shop is around 25 minutes away from Scotland's largest music festival, T in the Park, which celebrates its 20th anniversary this year. Unfortunately, while it is fairly close to the festival's Balado site the Tullibody store isn't quite on the main routes to T in the Park. But she's ready to stock up and keen to learn what to expect in the future.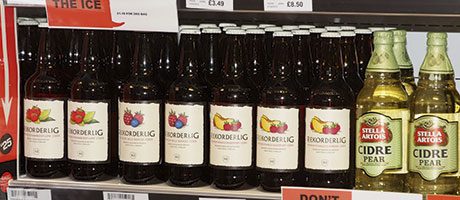 With one award safely on the mantelpiece Elaine certainly wouldn't say no to more. But for now she's concentrating on making commercial progress … and perhaps solving one or two of the (occasionally slightly embarrassing) work-life-balance riddles faced by busy retailers.
"Sometimes I get home at the end of the day and I look in the fridge and say 'Oh I've no milk'," she explained.
"But you just forget, you're so busy during the day with the shop and it does feel good when I get home knowing that I've done a good job that day, looking after the shop and the customers.
"And we just want to keep moving forward and grow the business."