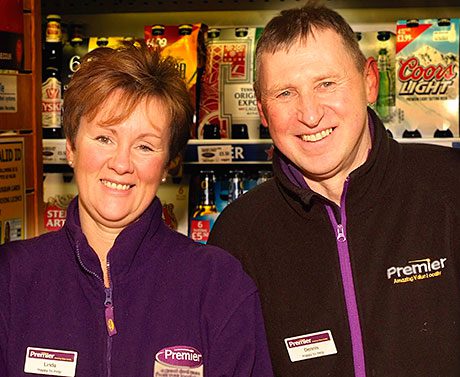 Our winners: Life and times
Linda and Dennis Williams, owners, Broadway Convenience Store, Oxgangs, Edinburgh – Scottish Grocer Tobacco Retailer of the Year 2013 – in association with Imperial Tobacco
Store details:
Symbol: Premier
Size: 1700 sq ft
Opening hours: 6.30am- 9pm Mon-Sat 8am-9pm Sun
Staff: One full time, 10 part-time
Services: ATM, Paypoint, Health Lottery, free home delivery, Hermes parcel shop
Period at store to date: 30 years
• Linda and Dennis are two of Scotland's most-awarded retailers and have also picked up awards organised on a UK basis
• Dennis began his retail career when he joined his parents in the family business when they opened the store in the Edinburgh area of Oxgangs in 1983
• He met Linda, a sales rep with what is now Walkers, they married and Linda joined the business
• They took operational control of the store in the nineteen-nineties, they have expanded, upgraded and refitted on a number of occasions and are about to refresh the unit again in conjunction with their symbol group Premier
• The couple are also acknowledged community champions
[hr_dotted]
CAUGHT up in the heat, dust and danger of Helmand province, as you do your duty for Queen and country in trouble-torn Afghanistan, you could very likely begin to dream of some of the simple pleasures of home… like nicking in to your local shop for a packet of Lambert & Butler.
Ask anyone with marketing and merchandising experience of tobacco and they'll tell you it's vital to know your local market conditions, to know what your customers' preferences are.
And Linda and Dennis Williams, owners of the multi-award winning Broadway Convenience Store in the Edinburgh district of Oxgangs, know that many of the soldiers who are based in the nearby Dreghorn and Redford barracks are big fans of L&B.
And it makes a difference. Like just about everywhere else in the country the recession and continuous tax increases on tobacco products have had their effect. Many of the smokers who shop at the Oxgangs store have moved on to cheaper brands of cigarette or have switched to roll-your-own tobacco lines.
So Lambert & Butler, the long-term market leader in the store had been knocked off its perch and replaced in pole position by the competitively priced Sterling. But when the troops came home that all changed and L&B was back in the number-one spot.
Linda and Dennis took their own number-one spot as Scottish Grocer Tobacco Retailer of the Year after judges, including representatives of the magazine and the sponsor Imperial Tobacco and an experienced hotelier, were impressed by their work with the different tobacco company reps, their close knowledge of the local market, their work to ensure range and availability, their business-like attitude to merchandising and new product development, and their thorough knowledge of appropriate regulation.
Tobacco is an important part of the service at Broadway Convenience Store but neither Linda nor Dennis smoke, so they work hard to understand the sector by engaging with those of their customers who do smoke and by collaborating closely with the reps who visit. The store's gantry is supplied by Imperial Tobacco and they do have a close working relationship with their Imperial Tobacco rep Hamish. But they see reps from the other tobacco companies too and are always open to ideas and usually willing to consider new products if a reasonable case can be made to try them out.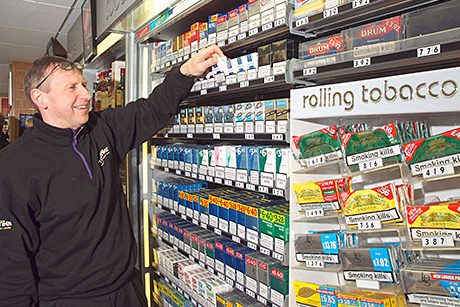 "The thing is," said Linda, "you have an incredible mixture of customers who are completely volatile and the absolutely steady regular who stays loyal to their brand."
It sounds fairly easy. The price-conscious smoker will see a good offer and go for it. Right?
Well it's not quite so simple. Those shoppers who do consider price, consider it very carefully indeed.
"Our customers demand value, they need value, many of them haven't got a lot of money," Linda said. "We always stock price-marked where possible.
"A lot of value brands have come out. Sterling has been the strongest with us and John Player is also a strong one.
"But you have to analyse things closely. We look at the figures every month with our rep. We send them to him a few days before he is due to visit to give him some time to study them. There are a lot of factors to take into account."
Price dynamics can actually be very complicated.
Take a new product for example. It's likely to have a set price for its launch period. It's success in the launch phase will often depend on that price.
But that in turn will depend on the price activity of existing products.
It's not unknown for a product to look expensive when launched. Then if other lines have price increases it will become popular, only to struggle again if it moves up in price after the launch phase.
"It's one reason we give new products three to six months before we make a decision," said Linda. "You need to do that before you really know how it is going to do.
"But if something doesn't sell it doesn't matter whose brand it is, it's delisted and the space is given to something else."
The store has worked closely with its rep on general merchandising and it has seen results, especially in the buoyant RYO segment. The RYO brands take up a well-organised section at the side of the gantry. The couple have noticed the increasing interest in RYO and especially in some of the new sizes and packs that are designed to hit very attractive price points – 12.5g of Gold Leaf with papers at £3.50 has proved popular, for example.
One of the ways they deal with the volatile market is simple, they use Booker as their store room, visiting the cash and carry on a daily basis.
With tobacco, especially, it helps ensure availability and also means there's no cash tied up in large levels of back-up stock.
When we visited the store we were in the very early days of the supermarket display ban and Linda was hopeful that it might mean some more business. Daily cash and carry visits mean they can be very flexible if they find there is new demand.
The store was using its own Challenge 25 system on age-restricted products long before it was a legal requirement.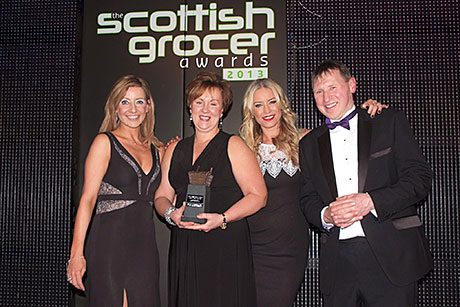 Staff are thoroughly trained before making any sales, which, of course, is what happens at any compliant store.
What's perhaps more impressive is that all staff go through very regular refresher training and the team can turn the need to stay on top of the law into a fun night – with special quizzes and more.
The till system has a full age-restricted products prompts system and all refusals are rigorously recorded.
Tobacco takes up relatively little space but can be a very complicated category to administer, Linda said.
But at Broadway the reps know that products are given a chance, customers know that they will get value, and the troops know that when they get home from the front their favourite will be there for them.