THE Friday night Ruby Murray, the Sunday evening spring rolls in front of the telly… fine Scottish traditions that have been enjoyed by generations. With household budgets being squeezed, however, there is less cash to splash on meals in restaurants and treats from the takeaway.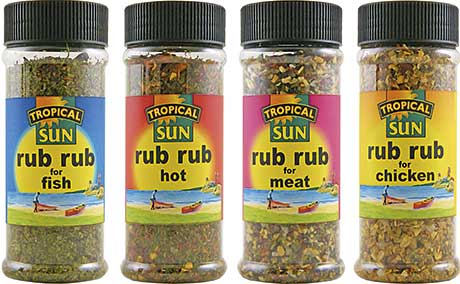 "As more people stay in with friends and family instead of dining out, consumers are more experimental with what they serve at get-togethers and big nights in," said Jag Singh, brand manager at Tropical Sun Foods.
"Once consumers take the plunge and realise just how easily they can transform a mundane meal or portion of meat with a good quality herb or spice, they are more likely to buy again, spend more in the category and be open to new products in the market."
With TV chefs such as Levi Roots and Jonathan Phang demonstrating Caribbean dishes on the small screen, Singh argued that a lot of people are keen to recreate dishes they may have seen on TV, or enjoyed at a restaurant, at home.
And that, he added, is good for herb and spice sales. "Whereas previously new consumers would opt for regular seasonings that they could keep in their cupboard as a safe option for any occasion like all-purpose seasoning, we have seen a greater take-up of more adventurous lines such as Curry Goat, Cajun and Peri Peri."
Tropical Sun's most recent innovation is Rub Rub, four coarse-ground premium seasonings. "They are perfect for consumers who want that something special to flavour their meat and vegetables and impress their barbecue guests. The bigger grains mean they can be embedded into the meat to release a richer and more potent flavour, which is particularly exciting when mixed with the smokiness of a barbecue," said Singh.
Available in meat, chicken, fish and hot varieties, RRP is £2.49.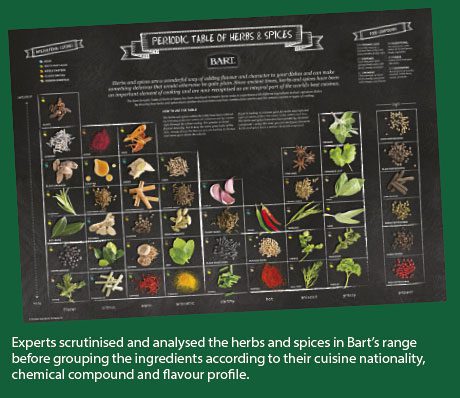 • Barts is doing its bit to help consumers get to grips with unfamiliar ingredients with its periodic table of herbs and spices. Compiled by a panel of experts including a chef, a master of wines and a molecular gastronomist, it categorises each ingredient into one of nine families, then lists them in order of flavour intensity.
Rachael Brown from Barts commented: "We hope it will inspire home cooks to experiment with different ingredients in their signature dishes and explore exciting new flavour combinations."
It's available to download free from www.facebook.com/bartingredients.