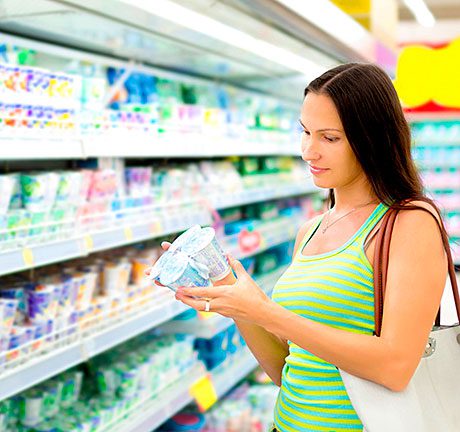 £2.5bn – Value of GB take-home yogurt sales
£233m – Value of Scottish take-home yogurt sales
33% – Share of Scottish take-home yogurt taken by private-label products
WHETHER it's a healthy treat, indulgent dessert or probiotic health aid, yogurt is a fridge stable for many households. According to Kantar Worldpanel, the take-home category is now worth £2.5bn across GB, up 2.9% on last year.
Mark Thomson, business unit director, explained: "Yogurt still has a strong connection to health. This is evident in the sectors which are driving growth such as probiotic yogurt which is growing at 6.5% and diet and low-fat yogurt which is up 7% over the last year. These two sectors combined account for 38% of spend and 47% of volume."
Private label yogurts are on the up, accounting for 31.5% of spend. They've grown by 22% over the past five years compared to branded yogurts, up 11%.
Scots consumers are keener on private label lines, spending 33% on those products, or 2.5% more than the rest of GB. "This goes against the more common rule where brands generally have more presence in Scotland compared to the national picture," said Thomson.
He identified promotions as playing an important role within the category. "We have seen a continued growth in temporary price reductions, which now account for 21.8% of spend in Scotland, 3% more than last year."
• Müller Dairy pointed to a 4.4% increase in yogurt sales value and a 4.5% value growth in kids' yogurts which together have added over £50m to the category.
"Rather than cash in on promotions and offers, we believe in the quality and value of our product," said a Müller spokesperson. "We will continue to push this through indulgent flavours, sleek and stylish new packaging, and single pot limited editions."
The Müllerlight range has had a makeover for 2013 with new packaging and three new desserts: Mischievous Milk Chocolate, Frivolous Fudge and Wickedly White Chocolate. Michael Inpong, Müller Dairy marketing and R&D director said: "Desserts have a huge potential for growth in the chilled yogurt and pot desserts market. Consumers continue to demand indulgent flavours, creamy textures and treat appeal, but without the guilt factor.
"These Müllerlight desserts are one of the lowest calorie options in the category and deliver on every angle.
"We see value for money as a key trend and, although times are tighter than ever, customers still crave an indulgent treat without the calories, and will pay for products which deliver this at an exceptional standard of quality. This focus on value will continue for 2013."
Müller Corners have been luxed up with premium flavours Marc de Champagne, After Dinner Mint, Coconut Dream, and Crème Praline supported by a £5m ad campaign featuring pop singer Nicole Scherzinger. The ads will run all through the summer.
Müller's Amore yogurt range also has some saucy new varieties: Lavish Me Strawberries and Cream, Tease Me, Please Me Peaches and Cream, Caress Me Coconut and Vanilla and You, Me, Now Mango.
To address retailers' concern over potential wastage and their perception that products in this category are poor sellers, the Müller spokesperson pointed out that its product range allows store owners to pick and mix the perfect range for their customers.
"With the wide selection of yogurts and chilled pot desserts now available, there are products available to suit all types of trading styles. The range can be fine tuned to reflect the mission mix of each store.
"Almost two-thirds (60%) of yogurt and pot dessert sales in convenience stores come from the top 10 brands. We recommend that c-stores stock the best sellers and then tailor their range to suit the store location and shopper profile."
Stores catering for top-up shoppers, for example, need affordable everyday multipacks and children's lines. Food-for-now stores need single pots.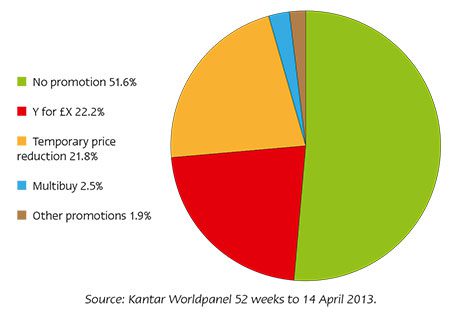 • Onken also identified health as a contributing factor in driving consumers towards its big pots of yogurt. Quoting Kantar Worldpanel figures, an Onken spokesperson said: "Fat-free and low-fat big pots are a growing segment at the moment, increasing at 25% year-on-year. Everyone has different health concerns, and we have tried to respond to this by making our yogurts as natural and tasty as possible. Not only does Onken offer a variety of fat levels, it is also free from any artificial colours or preservatives, gluten-free, contains probiotic cultures and is suitable for vegetarians."
Onken's new fat-free flavours for 2013 are raspberry and honey and blueberry and elderberry.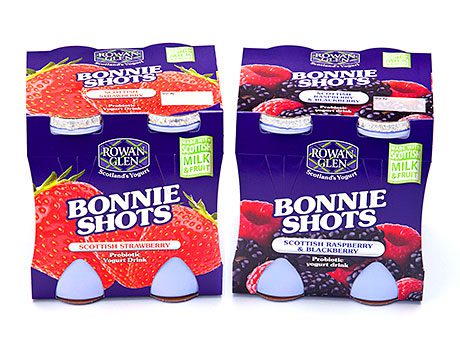 • Rowan Glen says it's building on the success of its launch last year of Bonnie Shots low-fat yogurt drinks. The drinks come in two soft fruit flavours: strawberry and raspberry and blackberry. Manufactured in Newton Stewart, they are the only Scottish low-fat yogurt drinks on the market.
The Rowan Glen yogurts range has been supported by a media campaign featuring comedy cow duo Gwen and Jen. Their bovine wit will be returning to the small screen later this year.
Danny Cairney, Rowan Glen commercial manager, said: "The campaign has proved a huge hit with consumers, and has helped maintain double digit sales growth."