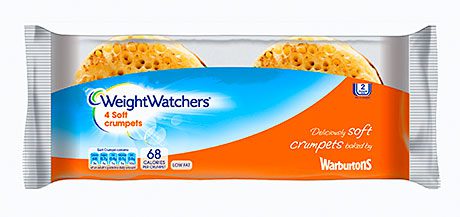 WEIGHT Watchers has extended its range of bakery products with the launch of Weight Watchers Soft Crumpets, baked by Warburtons.
Available in a four pack, Weight Watchers Soft Crumpets have a ProPoints value of two per crumpet. The bakery firm says they provide a breakfast option or daytime snack for consumers following a healthier eating plan. They can also be part of a full breakfast option with Weight Watchers Low Fat Dairy Spread and Weight Watchers Jam and Marmalade.
Weight Watchers Soft Crumpets are available now across all channels with an RRP of £0.70 and will join the existing Weight Watchers range which includes Weight Watchers Thick and Danish 400g sliced loaves.