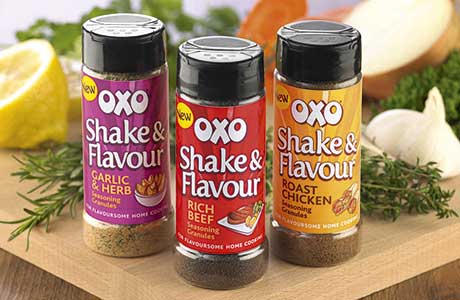 A new product designed to help hard-pushed families get a delicious meal on the table is the latest innovation from Oxo. Shake & Flavour is a shaker pack filled with fine seasoning granules that can be sprinkled into food before or during the cooking process. They can also be shaken on at the end, as a finishing touch before serving.
"We know consumers are increasingly time-poor and on a mission for fast solutions, but they equally desire full-flavoured, tasty meals," said a Premier Foods spokesperson. "OXO's new Shake & Flavour is perfectly positioned to cater for this trend as it can be used to add flavour to a variety of everyday favourites."
Shake & Flavour comes in Rich Beef, Roasted Chicken and Garlic and Herb varieties. A 70g pack has an RRP of £1.39.