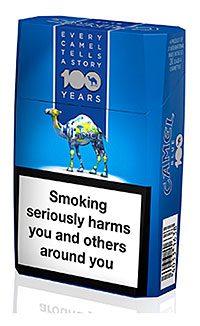 INTERNATIONALLY distributed cigarette brand Camel is celebrating its 100th anniversary this year. To mark the centenary JTI is launching a series of limited-edition packs for the brand. Rolling out on Camel Blue 20s this month, the limited-edition packs will be available in all sales channels for two months or while stocks last.
And as part of the anniversary activity the firm also has a competition where retailers can win a trip to New York.
Retailers complete an entry form, attach three Camel outer barcodes and send them to JTI. The competition entry forms will be available in selected cash and carrys in June and in the trade press in June and July. Retailers must return their completed entry form and barcodes by 31 July.