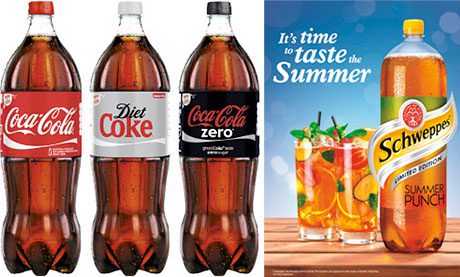 IT'S thirsty work getting through the summer. Kantar Worldpanel figures show that, throughout the season, shoppers make 8.4m trips across the soft drinks category. After Christmas, it's the busiest sales period of year for soft drinks.
If retailers want to capitalise on summer demand, Coca-Cola Enterprises (CCE) recommends stocking both on-the-go and drink-later pack sizes.
"Link deals are a great way for retailers to increase basket spend, by selling soft drinks with categories that are often consumed together at summer social occasions such as barbecues, picnics or parties." CCE's Dave Turner said.
"There are many different occasions where soft drinks can be enjoyed: on the go, in between meetings, an accompaniment to lunch or enjoyed at home with friends and family. They can accompany or enhance most daily activities, whatever we're doing. There are very few categories that are as expandable and offer as many sales opportunities."
CCE introduced a 1.75l pack size earlier this year, in a bid, it said, to make it easier for consumers to buy soft drinks at c-stores for future consumption. Coca-Cola, Diet Coke, Coke Zero, Cherry Coke and the newly relaunched Vanilla Coke are now available in the new size, with an RRP of £1.79.
Vanilla Coke also comes in PMPs: 330ml cans at 59p and two-for-£2 500ml PET bottles.
"There's been huge demand from consumers for us to bring back Vanilla Coke," said Turner. "It's the product that they ask us to bring back most frequently and we've listened to them."
Another CCE brand, Schweppes, has a limited-edition sparkling Summer Punch designed to entice adult lemonade drinkers. Turner described the new recipe as: "the perfect refreshing soft drink for sharing from a jug with friends or for drinking over ice from a long glass." It comes in a two-litre bottle as well as a six pack of 330ml cans. The launch will be supported by in-store promotions. "Last year's Jubilee provided a significant sales uplift for Schweppes lemonade," said Turner. "A specific summer flavour should help the category in 2013."
Images – CCE's 1.75l bottle, designed specifically for c-stores, comes in a distinctive curved bottle that echoes the shape of Coke's classic glass bottle. Schweppes Summer Punch is designed for adults looking for a refreshing, fruity summer thirst-quencher.