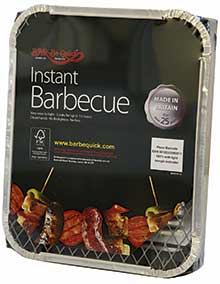 WE are set for a barbecue summer, according to Caroline Hoare of specialist manufacturer Bar-Be-Quick. "Families want to spend quality time together having low-cost, healthy meals," she said.
"Barbecues are ideal. They bring groups of people together for minimal-fuss, fun meal times. Also, as grilling meat is known as the healthiest way of cooking, barbecuing is being recognised as a low fat method of food preparation."
Bar-Be-Quick has developed its family size instant barbecue for folk who only decide to get grilling when the forecast looks good. It's ready to use in 20 minutes, lasts for up to one and a half hours and is big enough to feed around 10 people. RRP is £7.
• For summery deli items such as salads, cooked food and ice cream, Planglow's natural pots and lids are designed to be an environmentally friendly alternative to plastic tubs.
Suitable for hot and cold food, the 12oz tubs come with a recyclable plastic lid or a compostable corn lid. For samples go to www.planglow.com.