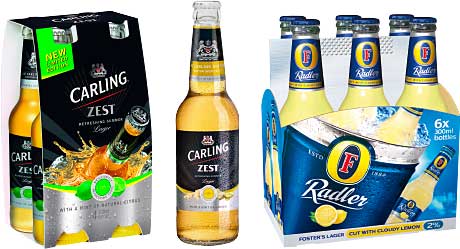 BEER has come under considerable pressure from other long drinks in recent years, including cider and new styles of flavoured alcoholic beverages, premixes and RTDs.
But beer remains a huge take-home drinks category and a good summer traditionally sees sales soar. It might be difficult to remember, but a few years ago there were actually some shortages of mainstream beers as production struggled to keep up with hot summer demand. And some beer categories, including world beer and craft beer, are currently doing very well.
That's something that Heineken UK, one of Britain's biggest beer operations, recognises but the beer giant is also keen to emphasise that in comparison to the mainstream the growing categories are still "small beer".
Martin Porter, the firm's sales director, said: " In terms of beer and lager, world lager is the most buoyant category with the fastest growth rate, worth over £339m in the total off-trade market. Growing at 8.3% in volume and 10.7% in value, this segment offers retailers strong opportunities for sales and profits.
"However, retailers looking to capitalise on the world lager segment should first ensure they get the basics right. When it comes to beer and lager the majority of sales still come from leading everyday national brands," he said.
Heineken is currently running Star Retailer – a three-year trade support programme intended to aid beer and cider retailing in convenience stores. It stresses three main points.
On range the programme argues that the top 10 packs account for more than 34% of total category sales.
On category management it says 30% of lost sales are due to shoppers not being able to find what they want. It says similar items should be grouped together to make it easier for shoppers to find what they are looking for.
And on merchandising it says retailers should put top-selling products on more facings than slower sellers and ensure key brands are located in prominent positions.
30% of lost sales are due to shoppers not being able to find what they want
Among current campaigns in support of its beer portfolio Heineken is backing its new Foster's Radler – a combination of Foster's lager and cloudy lemon – with TV, print and outdoor advertising.
Gayle Harrison, brand director for Foster's at Heineken said: "Within just a few weeks of its launch, sales of Foster's Radler topped the 3 million bottle mark and the decision to bring forward plans for TV support recognises the exciting potential of Foster's Radler to bring new consumers to the mainstream lager category."
• Britain's biggest brewer Molson Coors reckons refreshment is the main priority when consumers select a drink on a hot summer's day and says it has introduced new products with that in mind. Quoting Nielsen statistics it says its Carling Zest was the most successful beer launch of 2012 and that its With a Hint of Citrus flavour was a hit despite poor weather. Originally a limited edition, the citrus variety has been reintroduced as a permanent line.
Carling Zest With a Hint of Ginger is the new limited-edition product in the range.
Molson Coors argues that around 70% of a retailer's chiller should be set aside for lagers, with best-selling brands at the front and centre of the display. It also suggests that store owners leave a bit of space for world beers as well as for newer products, such as Carling Zest. The remaining space, around 20%, should be used for ciders with some RTDs or ales, depending on the retailer's types of customer, it says.
Images – Flavour looks like being flavour of the months ahead as two of Britain's biggest beer firms offer drinkers some new tastes over summer. Molson Coors says its Carling Zest with a hint of natural citrus was such a success last summer that it has since been added to the portfolio permanently. This year it has a ginger-flavoured version of the beer as a special limited edition. Heineken's new Radler combines Foster's Lager with cloudy lemon.