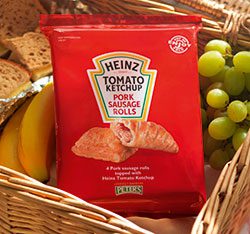 HEINZ has its eye on the nation's picnic baskets with the launch of two new pastry-based snacks that can be eaten hot or cold.
There are four flavours of puff pastry slice: classic Heinz Beanz, Heinz Beanz with cheddar, Heinz Beanz with spicy meatballs and Heinz Beanz with smoky sausage.
They're joined by pork sausage rolls with a choice of sauce already baked in. The options are Heinz Tomato Ketchup, HP Brown Sauce or Heinz Ploughman's Pickle.
The RRP for the pastry slices is £1.50. The 130g sausage rolls are singles at a RRP £1 or in a 4 x 60g multipack with an RRP of £1.50.