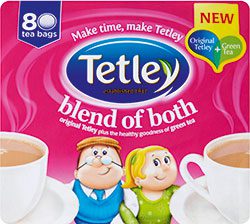 TETLEY is repeating its Blend of Both ads from earlier this year, after seeing an 40% increase in sales after the January run.
A combination of black and green leaves, it's designed to appeal to consumers who want the health benefits of green tea but prefer the taste of a regular cuppa with milk.
It's said to have one of the best repeat purchase levels of any new Tetley product. Dunnhumby found repeat purchase by 23% of shoppers, with 13% buying it six times in a year.