A new rectangular wrap made with half wholegrain flour is Warburtons' latest health-related innovation. Following the development of its Half & Half bread, and responding to what the firm sees as consumer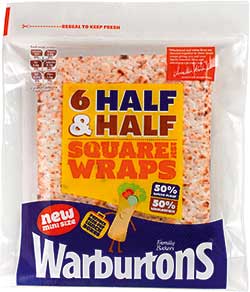 demand for a carb-based meal that isn't a sandwich, it's designed to be a child-sized product that delivers the health benefits of fibre and the novelty of a wrap.
The launch also extends Warburtons' presence in both the sandwich alternatives and half and half sub-categories, the firm says. Sandwich alternatives – wraps, sandwich thins and pittas – are the fastest growing bakery lines according to Nielsen, having increased by 15.7% in the last year to be worth £228m.
• Warburtons turned an April Fool joke into reality … on Facebook. The company 'launched' an All Ends loaf – featuring only the thick end slices of its Toastie loaf – through social media on 1 April. So many customers 'liked' it, and commented on it, that the company decided to bake it. Marketing director Mark Simester said: "We had no idea that our spoof loaf would receive such an enthusiastic response, so we're pleased to have baked limited editions for our most discerning crust lovers on Facebook."