THE trend to home entertainment has increased demand for premium snacks as consumers look for affordable luxuries to enjoy while cutting spending overall, says Leane Bramhall, marketing director, at Burts Chips.
"Premium brands which closely consider provenance and artisan values alongside regular flavour innovation, such as Burts Chips, have seen increased sales in particular – with the premium snacks sector continuing to grow at a rate of 4.5%," she said.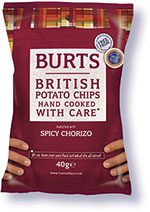 "Sharing bags are the most cost-effective pack size when catering for larger groups, with sales of these packets driving the premium crisp and snack market at a growth rate of around 8% year on year.
"At Burts we have always considered provenance key, but in recent months, probably as a reaction to the horsemeat scandal, many brands have jumped on the bandwagon with new messages relating to provenance. As brands have followed suit, we have continued to innovate, making it an integral part of our recent brand re-launch."
Doritos, from Walkers, recently launched a new logo across its chips and dips.
Pepsico-owned Walkers says Doritos has become synonymous with the 'big night in' occasion and that the firm has a complementary portfolio of sharing brands, six of which place in the top 10 sharing crisps, with Doritos currently no.1 and growing at 10.4%.
Doritos are available in £1 price -marked packs in impulse outlets.
The launch of two £1.29 price-marked Doritos dips in Mild and Hot Salsa flavours is designed to complete a sharing snacks solution for consumers.