Brand owners may well offer incentives to ensure good positions in store but if that excludes competitors there could be competition concerns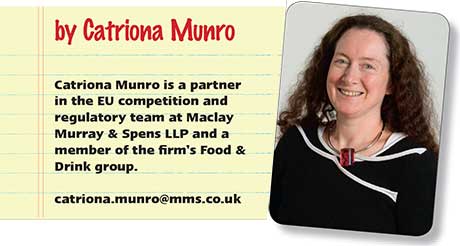 FROM fridges to shelf space, retailers constantly have to make stocking decisions. With space at a premium, how much independence do retailers have in securing the right mix in such fixtures and are brand owners within their rights to block competing products?
Deciding what products to stock is, in general, a commercial decision. But what happens when retailers are faced with restrictions on the type or brand of goods they may stock?
Under competition law, agreements or concerted practices that affect trade within the United Kingdom to an appreciable extent and prevent, restrict or distort competition are prohibited. Additionally, companies that have a dominant position in a market are not allowed to abuse that position by, for example, imposing unfair prices or selling conditions.
Potentially problematic restrictions could come from a range of sources.
Many commercial premises are subject to user clauses. These often specify, in general terms, the purpose for which the property can be used, such as shop, café or bar. Business owners are then free to decide themselves how to run their business and the appropriate product range to make this a success.
Sometimes user clauses can be particularly prescriptive and may set out in great detail the products and brands that may be stocked. While such restrictions are sometimes used by landlords to create an appropriate tenant mix within a shopping centre or high street, it may be more difficult to justify detailed restrictions on product lines from a competition law perspective.
In contrast to landlords, brand owners may be in a position to affect the market for their particular product. Category leadership could see brand owners push retailers into restrictive or exclusive agreements, thereby blocking access to market for competing products. This could allow the brand owner to charge higher prices and limit consumer choice.
In reality, the kind of situations that may be problematic range from an outright ban on stocking a competitor's goods, to innocuous offers of rebates linked to increased promotion of certain goods. Agreements that may also fall foul of competition rules could be payments by brand owners for prominent positioning on shelves, such as at eye-level or aisle-end displays. Additionally, deals where the retailer agrees to sell a particular brand in favour of a generic one asked for by the customer or pricing of one product by reference to another, may face greater scrutiny.
A typical example is the scenario where the brand owner of a 'must-have' ice cream product offers to provide a retailer with a freezer, at nominal or no charge and to pay for the upkeep, on the condition that only the brand owner's products are stocked in the freezer. However, the incentive of offering a freezer for free, or at nominal charge, can become problematic. With space at a premium, some small retailers might choose not to obtain more than one such freezer. A decision to accept the condition to stock only one brand owner's products in the freezer would, therefore, restrict the retailer's ability to offer competing products.
There are a range of possible scenarios like this and whether there is a problem will depend on whether the brand owner is in a strong market position. The market position of the retailer and its bargaining power in relation to the brand owner will also be relevant. A further consideration will also be whether the condition or incentive is being applied across a significant number of shops, so that consumers are adversely affected by a lack of choice, higher prices or both.