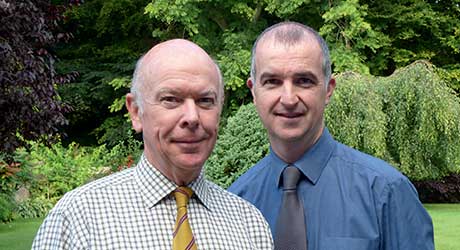 TALK to people with decades of experience in the food and drink business and they'll often use the word broker. It describes a company that forms an essential link between brand owners and manufacturers and food industry wholesalers… and ultimately with retailers in communities all over Scotland.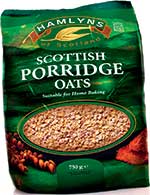 Now, in the 21st century, that section of the business has, like many others, evolved. Those firms who have lasted the pace, and who developed in order to to continue serving the needs of brand owners, now offer considerably more than a sales link.
They understand more of the modern disciplines of marketing, merchandising and promotion, and look to use consumer insights too.
And today, operating effectively as fully fledged sales and marketing agencies, many sum up the secret in just one word … partnership.
With 25 years experience in brokerage JFK Partnership directors, John Kerr and his son, Michael, say there's simply no word which better describes the role of the broker in today's grocery trade than "partnership". They've taken it as their slogan, aiming to operate in close partnership with each client's line management structure.
The JFK Partnership has responsibility for four Scottish producers, Hamlyns of Scotland, Nisha Enterprises, Scotts of Carluke and most recently the long-established Thomsons of Glasgow tea and coffee range, which, JFK says, is brewing up considerable interest as new distribution rolls out.
Completing the client partnerships is Buchanans, the growing Northern Ireland-based whole foods producer. And another famous brand, Comptons Gravy Salt completes the portfolio.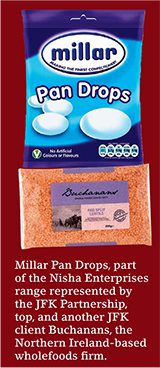 While outsourcing all functions is an established route to market, The JFK Partnership says it offers a well-established, cost-effective, risk-free alternative … the pure sales and marketing brokerage. It says its system delivers all the essential sales and marketing advantages, but with none of the disadvantages of surrendering all functions to a full-service provider. Kerr argues that JFK's brokerage route can be seen to have increasing appeal to both clients and customers, shown by the number of enquires received each month from potential clients investigating the idea of outsourcing sales and marketing to speed the route to market, and matching sales costs to sales results, while keeping storage, delivery and invoicing in house.
The company maintains that its all sectors of Scotland coverage of grocery, foodservice, confectionery and specialist retail enables it to develop clients' brands to their full potential, in a geographical marketplace in which every supplier struggles to deliver regular sales coverage at an acceptable percentage cost of sales.
"In the current recession, with intense competition, food price inflation, and tightening margins, the fixed-cost brokerage option is where it's at," he argued.
And importantly he says JFK always strives to ensure that the independent trade has a level playing field in all aspects of new product development, marketing initiatives, pricing and promotional support.
"Parity of pricing and marketing support is at the very core of what we deliver when we bring our customers and clients together to build successful business partnerships," said Kerr.
As is the relationship with many of the other brands we represent, the role of Scot Serve is to complement Highland Spring's existing sales operation which has proved extremely effective in growing sales of its premium bottled water in recent years.
Graeme Clark – Scot Serve
• Scot Serve, the central Scotland-based food and drink sales consultancy, is another agency which says it's all about partnership and collaboration, particularly in a fast-paced independent retail sector that has very specific requirements.
Graeme Clark, managing director of the long-established company said: "We understand the market and we know the people – and that makes us ideally placed to work with brand owners to help grow sales. Our approach is very much one that involves us working with our clients as an extension of their sales force to move a brand onto the next level in terms of distribution and ultimately sales – adding value is a key goal of our business.
"A great example of this collaboration is Yazoo the FrieslandCampina UK milkshake brand," he said. "We conducted a snapshot audit of the market back in October 2011 to give the brand an insight into its actual position within the independent convenience channel.
"From there we were able to work with the company in building a 12-month plan in order to engage retailers to adopt best practice in-store for the brand's core SKUs while also building distribution of the weaker ones.
"Doing this in partnership with our wholesaler base not only adds additional value to their businesses, it adds value all the way through the chain."
The sales and distribution initiative for Scot Serve on behalf of FrieslandCampina UK was runner-up in Project Scotland at Scottish Wholesale Achievers earlier this year.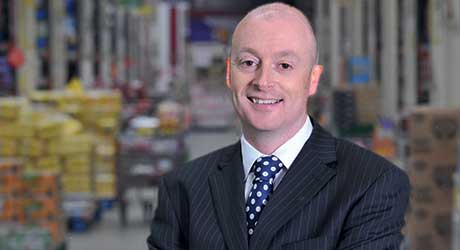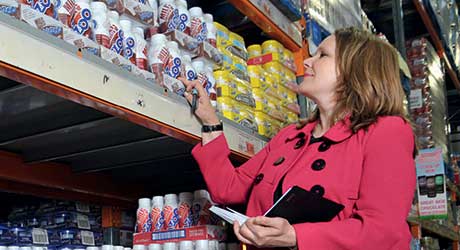 The initiative, called The Goodness of Milk, earned praise from the judges – Gerry Fraser of Batleys; Stephen Clinton of Booker; Stuart Harrison of JW Filshill; and Ali Asfar of United Wholesale (Scotland) – for increasing both distribution and rate of sale. It was also highlighted for its tailored support for wholesalers.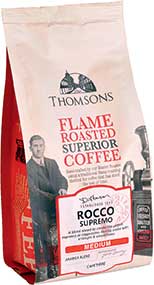 Other brands Scot Serve has represented in Scotland for many years include Butcher's Pet Care, Chupa Chups, Smint, Kettle Chips, Ritter Sport, Fruit-tella and Mentos while a more recent addition to the portfolio is Highland Spring, the UK's number one bottled water brand by volume.
"We're representing Highland Spring in the wholesale/cash & carry sector and working with them to service national cash & carry account depots across Scotland," said Clark.
"As is the relationship with many of the other brands we represent, the role of Scot Serve is to complement Highland Spring's existing sales operation which has proved extremely effective in growing sales of its premium bottled water in recent years."
By working directly with retailers, the Scot Serve team can tell them face-to-face about new launches and encourage them to look out for the brands in their cash & carry.
Distribution, said Clark, is key to supporting any marketing initiative and ensures that when the consumer wants to purchase, the product is available in-store.