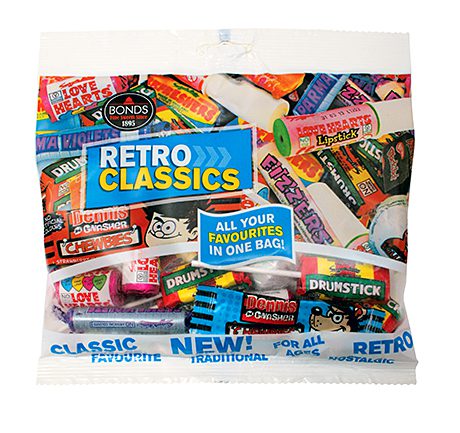 RETRO confectionery is helping bridge the gap between sweets intended for children and those aimed at adults, and nostalgia is having a positive effect on confectionery sales, says Philip Courtenay-Luck, managing director of Bonds Confectionery.
Courtenay-Luck sees the line between children's and adult's confectionery becoming increasingly blurred, and says a lot of that is to do with the growing availability of retro sweets.
The Bonds Confectionery Retro Classics bag contains products like Fizzers, Love Hearts and Drumstick lollies – sweets that were popular with children growing up in the 1980s and 1990s, who are now adults, possibly with their own children. Types of sweets that were originally aimed at children, he figures, are now being sought out by adults – for themselves, and also perhaps for their own children.
He said retailers should include retro lines in their children's confectionery sections but added that those shelves should also contain sour and fizzy products and novelty sweets. A variety of pack sizes is also important, especially smaller price-marked packs – for example, the Bonds range of 39p bags which the company intends for family use.
In terms of flavours, strawberry is still number one, said Courtenay-Luck, but in recent years, apple, blue raspberry and bubble gum have grown in popularity.
Image – Philip Courtenay-Luck of Bonds Confectionery says retro sweets are winning over old and young confectionery fans