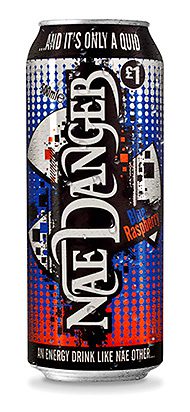 IT started as a bit of a giggle when Ross Gourlay managing director of drinks, confectionery and snacks distributor Glencrest joked with friends that Nae Danger would be a great name for a Scottish energy drink.
But it's a serious business now as the runaway success 500ml for £1 Scottish product spreads its wings and stands ready to be a full-blown sports and energy brand with a range of products and packs to take on all comers.
Gourlay said that after the discussion he began to think about the opportunities.
The project went ahead and even the pre-sell in conversations he had with wholesalers and retailers told him he was likely to have a successful brand on his hands.
The original Blue Raspberry 500ml now has or shortly will have stablemates including Nae Danger Sport, the recently launched Nae Sugar drink and an original energy flavour variant.
The early price promise was 500ml and it's only a quid. Now the Nae Danger Original Energy variant will be available in 250ml size, designed to be strongly price-competitive in a 69p PMP.
The Scottish brand is continuing substantial activity with its sports and music connections and is a significant player in social media with strong presence on both Facebook and Twitter.
The only thing the Scottish brand doesn't say is "nae more"!