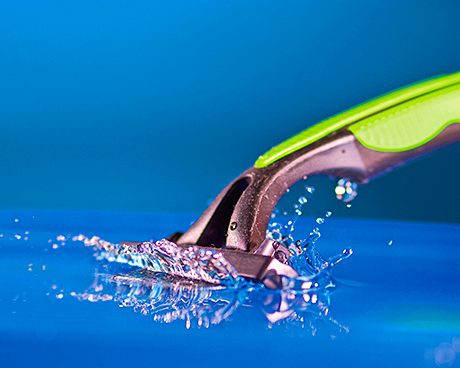 MOISTURISER. Hair gel. Hair straighteners. All part of a woman's regular grooming kit, right?
Wrong. According to a new survey from socked.co.uk, 36% of chaps have their own GHDs. That must be why 85% of them take more than half an hour to do their hair. In fact, by spending up to 75 minutes a day on washing, shaving and styling, men now officially take longer in front of the mirror than women, who manage to get out of the house looking gorgeous after just 70 minutes.
All this intensive titivation does not come cheap. Another study, from closeshavesociety.com, shows that men spend £590 a year on looking good. That's much the same as women. (Or as much as women admit to, which might not be exactly the same thing.)
And while men's ongoing love affair with their reflections might be disastrous news for females desperate to get into the bathroom and get ready for work, it is great news for convenience retailers who can cash in on anxious male shoppers looking for an emergency can of body spray before a big night out.
"Men are taking their looks far more seriously these days," said Zach Hanauer from closeshavesociety.com. "There's a clear growing market for male grooming products."



• Male grooming worth £626m and growing
• Survey finds men now spend as much as women on the look!
• C-stores used mostly for top-up purchases
The survey found many men using hair gel, aftershave, moisturiser, shower gel and deodorant on a regular basis. Some 86% moisturise frequently while 78% said they would use a dye if they saw grey hairs. Nearly all the men questioned – 95% – said they had researched which grooming products they were going to buy before making a purchase.


"One thing that's clear," said Hanauer, "is that men no longer rely on birthdays and Christmas for their aftershave. They're over the embarrassment of buying their own top quality grooming products and spending their own money on their personal image."
So how can convenience stores capitalise on these big-spending, perfectly-groomed potential customers and get a slice of a category currently worth over £626m, according to the latest SIG data?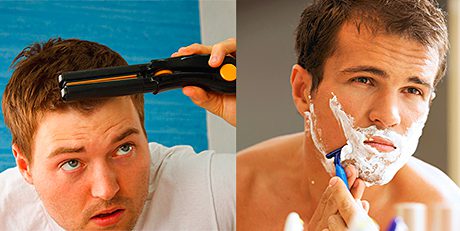 According to Tom Hazeldene, Partners for Growth controller at Unilever, the core products are shower gel and deodorant. "These are the main categories driving performance in male toiletries, as more men start to use a 'for men' version of products they already use," he said.
Range, Hazeldene stressed, should reflect what the shopper is looking to buy in a convenience store.
"The main mission is top-up – there is a need to buy, usually because a product has run out or is about to run out. Retailers should focus on meeting a wide range of needs rather than offering lots of choice in only a few areas.
"It's a good idea to stock the best-performing lines in the market, concentrate on well-known brands and keep own-label to a minimum because shoppers feel more confident with known makes of toiletries."
Razors and blades are the single most expensive item in a man's grooming toolkit, costing the average clean-shaven bloke £95 a year. Unlike other manly toiletries, which have remained stable or grown, razors and blades have seen a drop-off in sales during the recession. To give them a bit of a boost, Hazeldene recommended that they should flank one end of the category.
He added: "Male shoppers expect to find all the male-specific products in one place in the store. They shop by problem and solution. So merchandising should be by sub-categories: razor and blades, shower, deodorants, body spray, skincare, shaving, haircare. These should be sited away from femcare, flowing on from women's grooming products."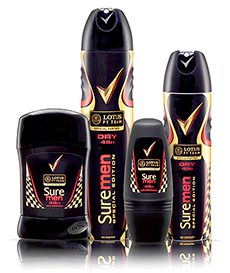 Unilever UK, with a 43.5% share of the male toiletries category according to the latest SIG figures, manufactures the Lynx, Dove Men+Care and Suremen ranges. There is still, said a brand spokesperson, work to be done to bring male consumers up to speed, "While there is a high level of interaction from women, men still need to be educated on how and why these products are relevant to them. They need to understand why they should have male specific products instead of borrowing from their mum, sister, girlfriend and/or wife.
"Through careful marketing and brand positioning men are starting to become more engaged in male grooming and as a result the category is showing strong growth. However, there is still a long way to go before it reaches maturity, presenting a significant opportunity for brands and retailers to close the usage gap between men and women."
Launched before Christmas last year, Dove Men+Care Face is Unilever's attempt to grab a slice of the male face care market, currently worth £58.4m. Brand manager Lauren Brooking said: "Now is the perfect time for a new brand to be entering the category. Dove Men+Care will be educating men on why they should be using these products in their routine through simple on-pack communication and advertising.
"Too many men are just stealing their wives or partners' products and using whatever is in the bathroom cabinet. Horrifyingly, some men are using hand cream – or even nothing – on their faces."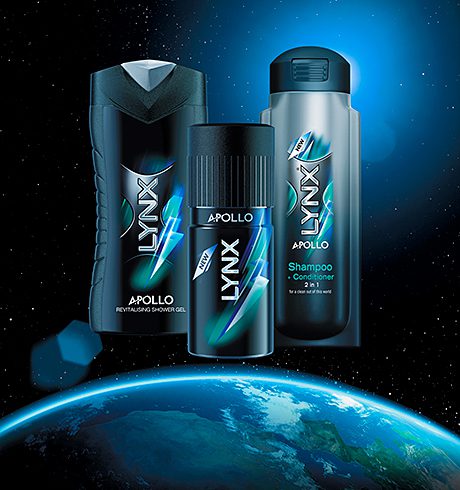 Unilever's Lynx is the UK's number one male grooming brand with a 27% share of the male toiletries category according to the latest SIG data, the firm says.
Last year saw the brand extend into shampoo and hair styling products, to take advantage of the fact that many men now wash their hair every day.
"Haircare has been proven to play a major role in daily personal male care, accounting for 14% of male grooming usage occasions, versus only 9% for women," said Richard Whitty, Lynx hair brand manager. "As the UK's biggest 'men only' brand, with considerable brand equity and a large existing consumer base, Lynx is uniquely placed to untap the male potential on haircare.
"UK males are increasingly buying 'men only' products for which they are willing to pay a premium. We know that Lynx shoppers are style conscious, and spend more time and money on their hair compared to the wider UK male market ."
Retailers can, says Unilever, use this male-pattern shopping to their advantage.
"More consideration is needed when stocking and merchandising male grooming products. Once men have decided to purchase, accessibility and ease of shop is key.
"Signpost navigation and brand adjacencies can drive cross-category purchasing, informing and educating the shopper about the higher-value categories at the point of purchase."
Images – Top, Men spend as much cash and more time on grooming than women and many now own hair dryers and hair straighteners according to surveys carried out for online grooming products and services sites.