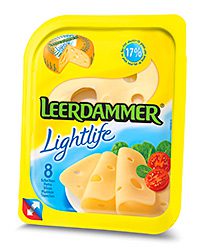 THE growing trend towards healthy eating and dieting has been good for cheese, in terms of both sales performance and the introduction of new products, according to Stephen Gregory, head of category management at Bel UK.
Low-fat cheese sales are growing. Quoting Nielsen Scantrack data to 5 January 2013, Gregory says low-fat snacking cheese is up 10.3%, versus 2% growth for full-fat variants.
The Bel UK portfolio includes Mini Babybel Original Light, The Laughing Cow Light, Extra Light, and Light with Emmental, and Leerdammer Lightlife.
• The Dairy Crest range includes products it says are ideal for consumers looking for healthier options – Utterly Butterly Lightly, Clover Lighter and Cathedral City Mature Lighter.
Adam Mehegan, senior shopper marketing manager, Dairy Crest, said Utterly Butterly Lightly contains 80% less saturated fat than butter.