BRITAIN'S symbol stores and independent shops have once again come out ahead of the supermarket giants in terms of growth in the latest grocery share findings from market analyst Kantar Worldpanel.
The figures, for the 12 weeks ending 17 February, showed, said Kantar, the impact of the first five weeks of the horsemeat scandal, which broke in January.
And while the multiple grocers continue to dominate total sales they are shown to be growing at 3.7% year on year.
Symbol groups and independent stores were just ahead of that performance, turning in year-on-year growth of 3.8%.
But the multiples, figures were held up by strong performances by Sainsbury's which grew by 4.6% and Waitrose which was up almost 9%. Tesco saw only 2.4% growth. Asda registered 3.1% and Morrisons once again showed a decline in sales – it was down 1.3% year on year.
Once again the deep discounters returned some of the strongest sales growth figures.
Aldi sales were up 30.1%, which meant its share of total till roll reached 3.3% compared to 2.6% in the same period a year before. Lidl saw sales growth of 11% according to the Kantar figures.
Although the period included several weeks that followed the horsemeat in burgers and ready meals revelations the analysis firm hadn't identified significant effects on individual store chains.
Edward Garner, director at Kantar Worldpanel, said: "The issue has so far only affected the performance of individual markets rather than where consumers are choosing to shop. For the four weeks ending 17 February, frozen burger sales were down by 43% and frozen ready meals declined by 13%, clearly demonstrating a change in shopping habits.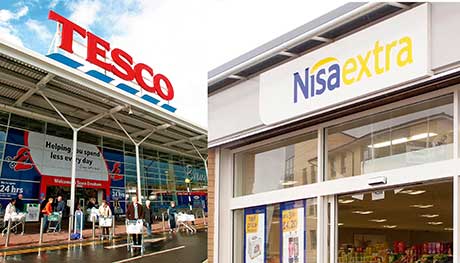 "Tesco's share has come under pressure this period, with a drop from 30.1% a year ago to 29.7% now. It might seem natural to attribute this decline to the horsemeat contamination. However, Tesco undertook heavy promotions this time last year, where consumers received a £5 voucher when they spent £40, and not repeating this offer will have adversely affected its share."