Three retailers will contest the Confectionery Retailer of the Year award category at the Scottish Grocer Awards 2013. We spoke to one shortlisted entrant, Scott Graham, about the secrets of sugar confectionery success.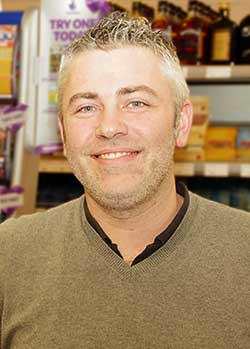 THE key to sweet confectionery sales lies in keeping the fixture fresh and interesting, offering shoppers something that's just a little bit different, and making sure there's a good selection on offer at a wide range of price points.
At least that's the secret according to Scott Graham, owner and director of Graham's Retail Ltd, which trades as McLeish of Inverurie – one of the stores shortlisted in the Confectionery Retailer of the Year award at the Scottish Grocer Awards 2013.
Customer demands vary considerably, Graham finds. Some confectionery shoppers will know what they want and will buy their favourite, regardless of price, but some consumers will always be on the lookout for a bargain.
Value packs and PMPs do well and £1 four packs of Mars and Twix are popular.
"Competition is the biggest challenge," he said. "We need to try to stay ahead."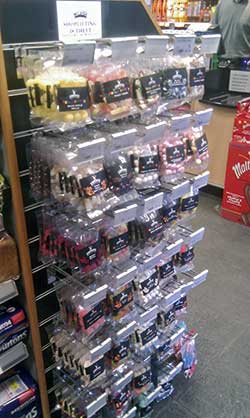 But in recent times, Graham says he's seen increasing numbers of his customers head for sugar confectionery lines rather than chocolate products. And he has some ideas on why that's taking place.
It could be, he argues, that people are looking at sugar confectionery as the "healthier" option. But as he's also close to a secondary school, he reckons the increase in sugar confectionery sales could be down to schoolkids opting for gums and jellies – which he says have become their favourites – rather than chocolate bars.
And the recent introduction of a £1 zone, which often includes £1 sharing bags of products from brands like Haribo, has probably has an impact.
"In terms of volume, we definitely sell more jellies and sweets than we do chocolate," said Graham.
"We do really well on sugar and jelly sweets, like Haribo and wine gums."
McLeish of Inverurie was originally part of the McLeish chain of delis which went into administration in 2009. Graham bought the store from the administrators and has since given it more of a convenience feel. That means the confectionery area now plays a much bigger part in the store's service.
So how does he handle it? The main confectionery section sits directly in front of the tills. The right-hand side of the sales area is devoted largely to chocolate lines. The left-hand side is taken up predominantly by sugar confectionery products.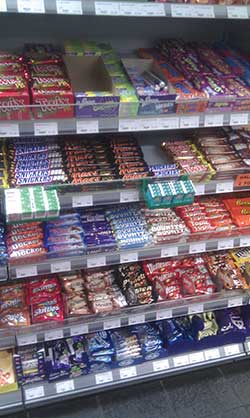 Boxed chocolates and large block chocolate bars sit at the top of the section.
Slatted panels at either end of the 3m run are used for bagged products.One displays branded hanging bags from the big confectionery companies and the other holds the McLeish own-brand range. The McLeish collection includes traditional favourites, like bon bons, and some retro sweets like flying saucers, which Graham says sell very well.
So much for the basics; what about his insistence on keeping things fresh and interesting?
In the middle of the confectionery area he has set up a section specifically for products that are… well, a bit unusual!
He searches for American products – like coconut M&Ms and peanut butter M&Ms, peanut butter Twix, and Jelly Belly jelly beans.
The products are performing well. "It's quite difficult to source this kind of thing, so it definitely gives us something that's a bit different," he said.