ON 14 March, one retailer will take the Bread & Milk Retailer of the Year award at the Scottish Grocer Awards 2013.
To find out more about how some leading retailers approach the dairy category, we spoke to our three Bread & Milk Award finalists – Gerry Haughey of Spar Thornliebank, Shaun Marwaha of Shaun's Premier in Cardonald, and Wendy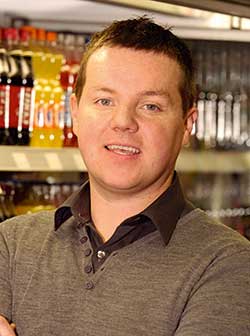 Morrell of Cardross PO and Stores in Dumbarton.
At Spar Thornliebank, price is the most important thing for shoppers when it comes to dairy products, but they also want to see a good range of different formats, according to store manager Haughey.
The 3,000 sq ft store has a 6m chiller area which contains its wide dairy range as well as other chilled foods.
With so many customers taking price so seriously, the store – along with others in the CJ Lang Spar chain – works hard at promotions.
"We usually have a cheese promo every month," Haughey said. "Just now we have Rowan Glen 200g on offer for £1 on both mature and mild varieties. S Budget cheese at £1 does very well for us too – we can sell two cases a week of each type, mature and mild. There's usually a promo on butter every three weeks.
"In milk, we also have a long term multibuy on two-litre packs of semi-skimmed and whole milk, "two for £2.70".
"There's a Farmfoods just down the road which sells two litres of milk for £1, so it's difficult for us to compete with that."
Haughey says the store takes around £800 a week on milk, around 4% of overall sales. On chilled goods other than milk, sales reach between £1500 and £1700 a week.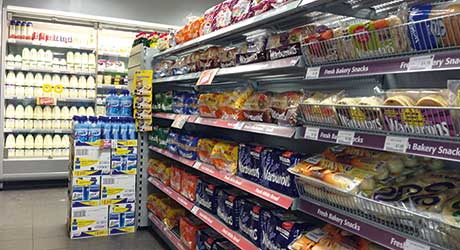 Shaun Marwaha moved milk to the back of the store in a refit around 18 months ago – the family business's first major development of the site they had bought some months before.
The milk display had been near the entrance, but Shaun wanted to ensure consumers saw everything the Premier outlet had to offer.
"Having milk at the front of the store meant that shoppers were only shopping 350 sq ft of a 2,500 sq ft store," he said.
"So we decided to move milk to the back of the store, at the start of the full dairy chiller, and to move bread too. It's made a big difference to sales."
Dairy accounts for around 6% of overall sales, said Marwaha. The section starts with 1.25m of milk, before moving onto cheese, then butters and spreads and yogurts.
Milk comes directly from Graham's the Family Dairy.
"For us it's not about cheap milk," he explained. "That's not something we feel we need to do or want to do." Promotions in dairy include a £1 PMP of Euroshopper coloured cheddar, and there's a long term "two for £3" promotion on £1.69 PMPs of Happy Shopper grated cheese.
Striking a balance between well-stocked shelves and low wastage is the biggest challenge in dairy, Shaun reckons.
"If there's a product that's about to go out of date, instead of putting a reduced label on it we'll give it away to a regular customer. If they like it, they'll come back and buy it at a later date.
"We make it into an investment rather than something that goes to waste."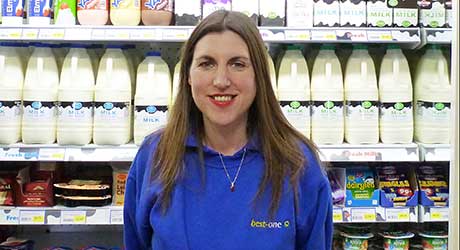 Wendy Morrell (above), owner manager of the 750 sq ft Cardross PO & Stores, recently reorganised the shop's dairy cabinet. She now has a larger range of chilled and dairy products.
Last year, she also worked with Müller Wiseman dairies on a milk project, moving milk from a single 1.25m shelf at the bottom of the chiller to 2 x 1.25m shelves at eye level.
Shoppers have to pass bread and grocery to get to dairy, which Morrell says ensures they see most of the shop.
Dairy accounts for 10% of store sales, she reckons. Bestsellers include Lurpak Spreadable 250g; Cathedral City Mature Cheddar PMP £2.49; Müller Strawberry Fruit Corner; and Wiseman's two-litre semi-skimmed milk.
"The bestsellers in each category can be dictated by current promotions," she said.
Morrell sees price-marked packs as a growing trend in dairy, and also reckons that with Best-One about to unveil its own chilled delivery program, dairy will see more range and variety, including more own-label products.