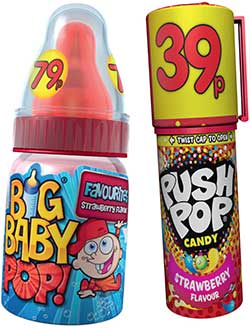 BAZOOKA Candy Brands is price marking its Mega Mouth, Juicy Drop Pop, Big Baby Pop and Push Pop brands. All will be less than £1.
"Kids' weekly pocket money allowances remain low," said Bazooka's Sarah Burrow, "so the announcement will come as welcome news for independent retailers keen to sell single sweets at competitive price points."
Juicy Drop Pop, which combines a hard lolly with a sour drop, will be marked at 99p. Mega Mouth, the liquid candy spray which has seen a 7% year-on-year increase in value sales, will be 89p.
Big Baby Pop, shaped like an infant's bottle, is 79p. Push Pop's price is pushed down to 39p.
Burrow added: "This is the first time we've used price-marked packs on our key products in the UK and we're confident they'll be a success. We've taken note of consumer behaviour and are making our products more accessible for our target market".