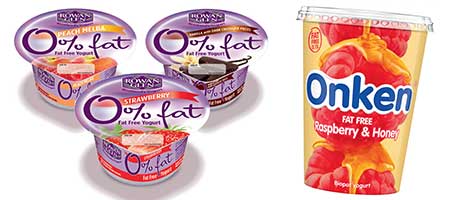 HEALTH has become more of a concern for consumers over the last few years and is now an important factor for consumers when they're choosing yogurts, says yogurt brand Onken.
And it appears to be riding on the crest of that wave in local shops – its low-fat yogurts are growing by 86.9% in convenience stores.
At the same time yogurt fans are also said to be showing a tendency to pick up products in larger packs.
Quoting Nielsen data, the brand says the big pot yogurt category is worth £284m annually.
Earlier this year, Onken introduced big pot sizes of fat-free yogurts in raspberry & honey and blueberry & elderberry flavours.
The range was supported by the "How Good?" TV ad campaign.
• Dairy brand Rowan Glen recently added a range of 0% fat yogurts, and Greek style yogurts to its portfolio. Flavours include peach melba, strawberry, vanilla with dark chocolate, honey, and natural.
It added Bonnie Shots yogurt drinks to its range in 2012.
Dale Farm, the company behind the brand, says the drinks are made using locally sourced Scottish milk and Scottish fruit.
Two flavours are available – strawberry, and raspberry & blackberry.