Swedish vodka brand makes its way to the UK market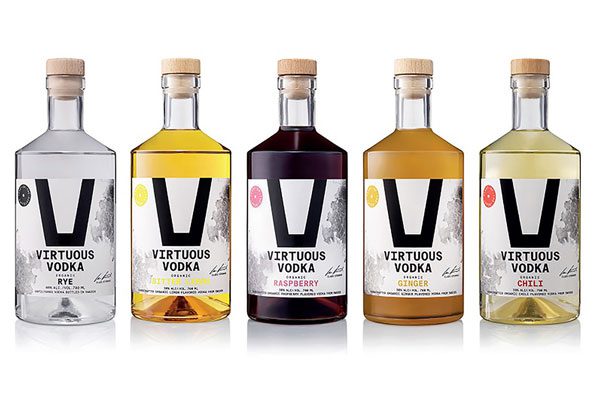 PREMIUM drinks distribution firm Love Drinks has added another feather to its cap with its first range of vodka spirits from Virtuous Spirits.
The Swedish vodka brand – Virtuous Vodka – has made its way to the UK market for the first time with all five variants available in 700ml bottles across Scotland.
This includes the four 40% ABV variants Virtuous Rye, Virtuous Chili, Virtuous Ginger and Virtuous Bitter Lemon with the fifth bottle Virtuous Raspberry sitting at 38% ABV. The four 40% ABV vodka variants come with an RRP of £34.99 with Raspberry sitting at £33.99 RRP.
The brand comes from Swedish chef Claes Stenmark who created the vodka in 2013, celebrating its 10th anniversary this year. Stenmark uses a natural maceration process in the making of the drinks which involves steeping the organic fruits and botanicals in the spirit to help release their flavours.
Stenmark said he aims to reflect the unfiltered, full-flavoured best of the Nordic food scene with Virtuous Spirits, with the five-strong vodka collection using only natural ingredients as well as a unique process based on the continuous distillation of organic rye.
Samantha Burke, managing director at Love Drinks, said: "We've long respected Claes and his Virtuous brand so it's a huge honour to take on the distribution in the UK.
"They are everything we look for in partners and thanks to his flavour-first passion, the Virtuous quintet is as delicious as it is stunning."
Stenmark said: ""Love Drinks epitomise everything we love in a distributor. They're flavour focused, supremely passionate, hugely respected in the industry and, most of all, they're good people.
"The work they have done with Hernö – Swedish gin brand – has been exemplary so we're excited to start this next chapter with them."