Bringing home a touch of luxury to the evening
WINTER brings with it nights indoors to escape the chill and perfect excuses to grab a blanket, a cup of tea and a plate of your favourite biscuits.
With this in mind, consumers will be looking to treat themselves more frequently on their nights in over the next few months, bringing ample opportunities to drive up some biscuit sales.
In particular, more premium options across the category could help add to little moments of luxury for consumers during the colder winter season.
That's the take from Sarah Macaulay, head of marketing at Walker's Shortbread, who reckons the brand stands to deliver these moments to consumers for a decent price, too.
She said: "To many, shortbread is synonymous with Scotland, and Walker's is synonymous with shortbread.
"As such, the brand has built its legacy on giving consumers a taste of Scotland, wherever they may be.
"This provenance and heritage is so central to the Walker's brand, and is part of what makes it so popular across the globe.
"To meet consumer demand for more premium packaging on products, Walker's recently rolled out new branding for its grocery range and global travel retail range, revealing a more modern take on its traditional Scottish product.
"It taps into the consumer trend that we're seeing at the moment of shoppers looking for little moments of luxury, while on a reasonable budget."
Countdown with crunch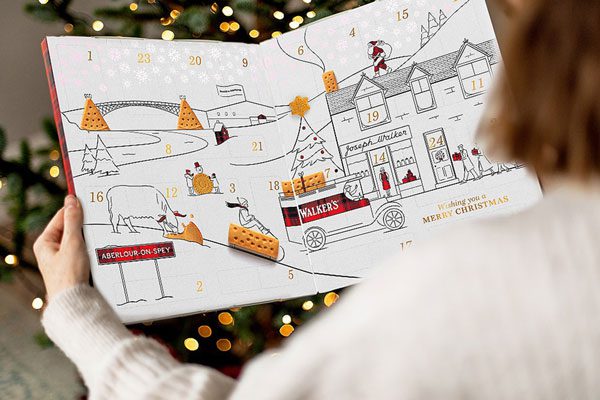 WALKER'S Shortbread has unveiled the latest iteration of its Advent Calendar.
Filled with a selection of the brand's all-butter shortbread goodies and with a design on the pack that pays homage to the firm's hometown of Aberlour, the new Calendar is available for purchase now. There are only 1,000 calendars up for grabs this year.
The packaging is also completely recyclable, appealing to the more eco-minded shoppers out there this advent season.
Sarah Macaulay, marketing manager at Walker's Shortbread, said: "This year's design celebrates Walker's Speyside roots with a festive scene featuring well-known sights in Aberlour, including the River Spey, the Walker's Shortbread Factory and the Walker's Shortbread Shop –which was once the bakery of the company's founding father, Joseph Walker – on Aberlour High Street.
"The cosy scene is brought to life with shortbread Christmas trees, shortbread finger sleighs, a snowman made out of Walker's shortbread rounds, and even a Highland cow, with Walker's heritage tartan a prominent feature throughout."