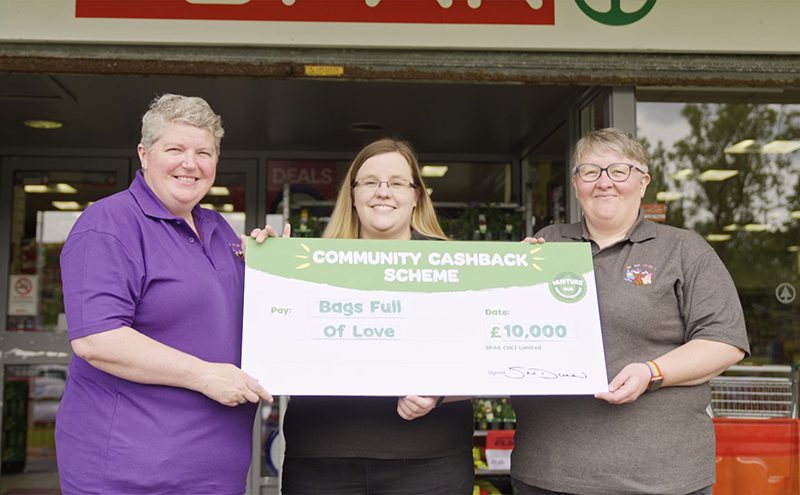 WEST Dunbartonshire charity Bags Full of Love is one of the first organisations to benefit from Spar UK's Community Cashback scheme.
Spar UK has distributed five £10,000 grants to good causes the length and breadth of the UK.

Bags Full of Love will use the funds to support its work providing essential supplies to children entering foster care. When children are removed from a household, they are frequently placed into care with few possessions of their own. Bags Full of Love aims to provide every child entering foster and kinship care with a new backpack filled with clothing, and comfort and personal care items.
Other groups receiving a £10,000 grant from Spar UK were: Woodlanders Pre School in Devon, Northumbria Blood Bikes, Stoke & Staffordshire Downs Syndrome Social Group, and Northern Ireland's Community Rescue Service.
The good causes were selected following an application process which ran from 14 April – 4 May and attracted more than 4,000 applicants.
A total of 30 grants were distributed from a £100,000 prize pot. In addition to the five £10,000 grants, Spar UK has supported charitable works through five £5,000, five £2,000, and 15 £1,000 grants.
Launched this year, Spar UK's Community Cashback scheme is the first major charitable initiative under the symbol's new 'The Joy of Living Locally' brand positioning.
Suzanne Dover, brand and marketing director at Spar UK, said: "We have been really impressed by the number of applicants received and delighted to be able to award thirty very worthy causes with a grant from the Spar Community Cashback scheme.
"Our Spar stores around the UK believe in nurturing their neighbourhoods and supporting the communities they serve, and we are delighted to be able to supplement their local efforts with this national campaign."
Fiona Hennebry, co-founder of Bags Full of Love, said: "Winning this £10,000 is massive for us and means we can do so much more for these vulnerable children. We are so grateful to Spar."