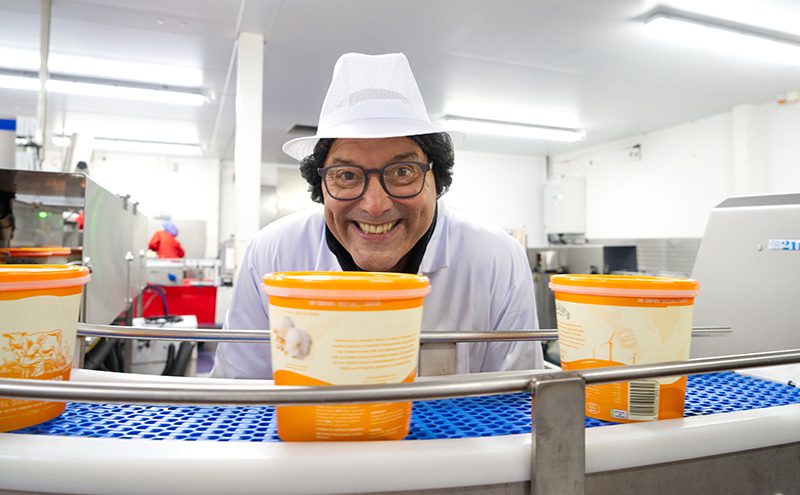 THE spotlight is set to shine on Mackie's of Scotland this week, when the ice cream maker features in the next episode of 'Inside the Factory' on BBC 2.
Airing at 9pm on Wednesday (9th Feb) night, this week's episode will see TV presenter Gregg Wallace, best known for hosting Masterchef, visit the Mackie's family farm and ice cream dairy in Aberdeenshire.
Filming for this week's episode saw Wallace take a tour of Mackie's of Scotland's facilities with Kirstin Mackie – development director and one of the firm's three sibling owners – meeting several staff members along the way, as well as plenty of cows.
The has provided Mackie's with an opportunity to showcase its twin drum spiral freezer, part of the firm's newly installed low carbon refrigeration system, which is expected to reduce its carbon emissions by up to 80%.
Kirstin Mackie commented: "We are busy making ice cream here on a working farm – it's not a visitor centre and it can be difficult to show people around the business. We loved the experience of working through this and having Gregg and the filming crew up to see us and we hope that viewers will enjoy learning more about Mackie's.
"While I and some of our team were initially quite nervous – it was made fun by Gregg's chat and the friendly film and sound crew. It was very interesting to see how much work goes into making the programme as well – it was a full and busy three days filming!
"We are delighted to have this opportunity to show how Mackie's make ice cream on this fantastic programme."
Mackie's of Scotland has been making ice cream since 1986. Since then, the firm has launched more than 200 products and created more than 1,000 flavours.