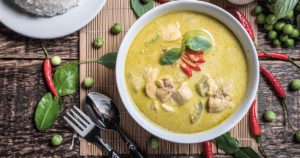 CONSUMERS are on course to cook up a storm in 2022, according to meal box delivery brand Hello Fresh.
Experimenting flavours will become the norm for many shoppers according to the firm, which suggested fusion food – combining cooking cultures from across the world – could overtake Italian as the nation's favourite cuisine. Hello Fresh made the prediction based on the popularity of recipes it ships to consumers.
The shift to fusion has coincided with a shift in the choice of carbohydrates consumers are purchasing, according to HelloFresh, with rice and noodles on course to overtake potatoes in popularity.
Mini Morley, HelloFresh recipe development manager, said: "The next year of trends looks like it'll serve up a lot of change across British households, with dinner time becoming more adventurous, all while packing in plenty of goodness.
"As we settle into 'normality' once again, it'll be time to take action on those new habits that many of us picked up over the past year, and for many households cooking was one of the key ways to experiment.
"We're excited to see new trends that embrace more adventurous eating habits."