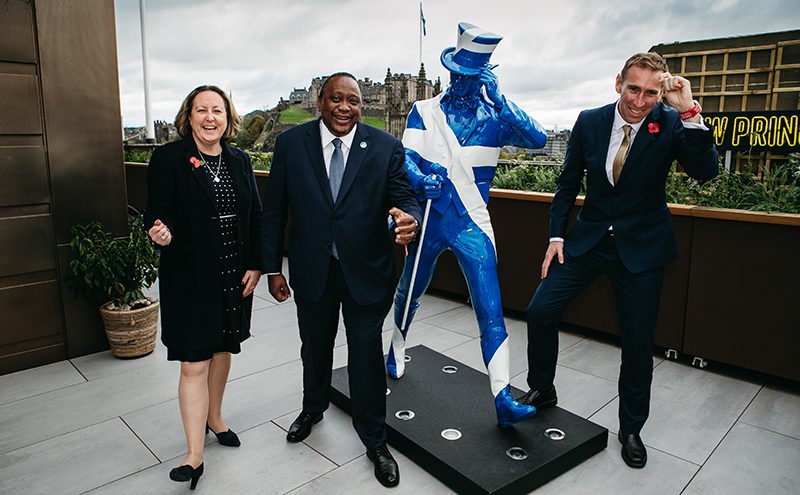 WATER was top of the agenda when President Uhuru Kenyatta of Kenya paid a visit to Diageo's Johnnie Walker Princes Street venue during COP26.
The Kenyan president met with Anne-Marie Trevelyan MP, UK Government secretary of state for international trade, along with other key stakeholders to discuss water and agriculture sustainability.
As part of the event, Diageo chief sustainability officer Ewan Andrew hosted a roundtable discussion with the President and other attendees.
Andrew commented: "It was a pleasure to welcome President Kenyatta and the secretary of state for international trade to Johnnie Walker Princes Street this morning to discuss water and agribusiness sustainability.
"At Diageo, we believe that sourcing, production, and supply goes hand in hand with sustainability and it is my job to ultimately not only ensure we are producing our brands in a sustainable and safe way all over the world, but to make sure we can for the decades to come."
The visit from President Kenyatta forms part of a wider programme of environmental activities from Diageo. The spirits giant is currently engaged in a ten-year sustainability strategy dubbed 'Society 2030: Sprit of Progress'. Diageo's plan includes a commitment to achieve net zero carbon emissions by 2030.
Diageo's presidential visit also follows recent recognition for the firm's efforts around water sustainability across its Speyside distilleries.
Eleven Diageo-owned distilleries have secured water stewardship certification in recognition for the spirits giant's efforts to mitigate its environmental impact.
The certification was awarded by the Alliance for Water Stewardship (AWS), a non-profit organisation focused on promoting sustainable water use.
All eleven distilleries recognised by AWS, which included Cardhu, Mortlach and Cragganmore, are located along the River Spey. Diageo has been engaged in a range of projects designed to improve efficiency and mitigate climate-related issues.
These include working with the RSPB to restore peatland at Abernethy Nature Reserve in the Cairngorms National Park, as well as offering support for the Spey Catchment Initiative – an organisation carrying out a broad range of environmental work around the River Spey.