Brewer joins forces with charity to provide mental health training to grassroots football clubs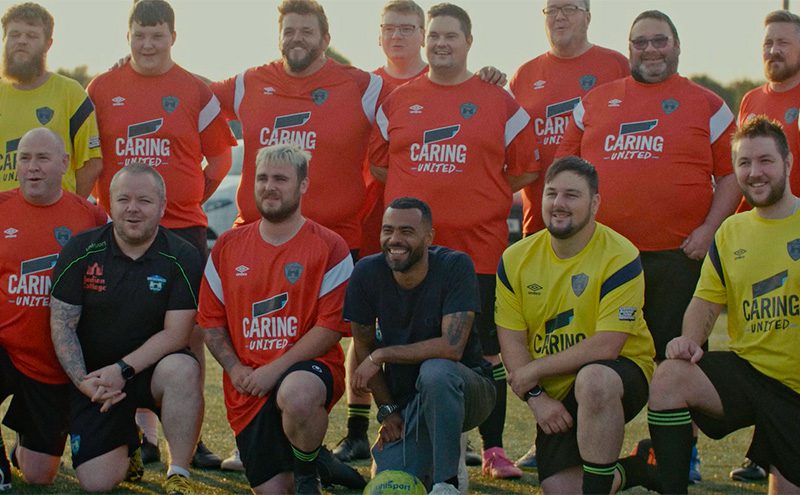 CARLING has joined forces with mental health charity Campaign Against Living Miserably (CALM) to provide mental health first aid training to grassroots teams.
Through the 'More Than a Game' campaign, Carling and CALM aim to recruit 20 clubs across the UK to become Caring United clubs and will provide each side with accredited mental health first aid training to players, captains and managers.
The campaign also sees former England international Ashley Cole take on the role of More Than a Game ambassador. Cole kicked off his ambassador role by appearing in a series of films that share the stories of the first five Caring United clubs.
Scottish side Denny Warriors – an amateur team based in Denny, near Falkirk – features in the first film in the series. Established in July 2020 by club chairman and manager Gary Thorn, Denny Warriors aims to provide support for overweight men with poor mental health.
Thorn commented on the Carling campaign: "Our club was formed to help heavier men get back into football, or come new to the game, and has grown to play a part in the lives of all of us and our local community.
"Coming together and playing football is more than a game for us, it's about encouraging people to talk about how they're feeling with their teammates and others around them. It's a privilege to be part of Caring United and we urge other clubs to do the same."
Ashley Cole described the campaign as a "brilliant project" that has introduced him to, "inspirational people who are doing amazing things in their community."
"It's been so good speaking to them, understanding their stories and seeing the amazing way they're using football to help themselves, empower others and build better mental wellbeing in their clubs.
"Football has been a massive part of my life and seeing these people using their passion to make a real, life-changing difference makes me feel proud and I hope the legacy it creates with more grassroots teams signing up will really make a difference," he said.
The More Than a Game campaign follows on from Carling and CALM's Team Talks activity which ran over lockdown. Team Talk encouraged football fans to come together and talk during the periods of lockdown when no football was being played in stadiums or on screen.
A number of top-level managers and former players supported the campaign, including Stuart Pearce, Terry Butcher and Chris Hughton.
Simon Gunning, chief executive of CALM, said the charity's partnership with Carling "keeps going from strength to strength" adding that the brand's reach "is helping us to reach so many more people across the UK."
"Football has always been a massive part of CALM and its approach to reaching men by normalising conversations and breaking down the stigma around conversations about mental health and suicide.
"More Than A Game does an incredible job in showing how inspirational people in their community can be and the way they can positively affect people's lives. We know grassroots football is so important in helping people get together, do what they love and feel better for it.
"And seeing these stories really makes it clear that football really is more than a game. Creating more Caring United teams – and having people mental health first aid trained within these clubs – helps make sure there's always someone on your side," he said.
Carling brand director Lee Willett added: "Carling has been synonymous with football for decades, and we truly believe that football has the power to bring people together. Hearing the stories from our first five Caring United teams just really brings that home.
"These clubs, their players, their leaders are at the heart of their local communities and making a real difference in peoples' lives. By working with these grassroots teams, we can help CALM reach directly into local communities and deliver support and advice where it can have the most impact.
"Being a part of this campaign and having the ability to support CALM in this way is a real privilege and something we are incredibly passionate about."