Kitchen towel entrepreneurs gear up for a big launch in the Scottish convenience channel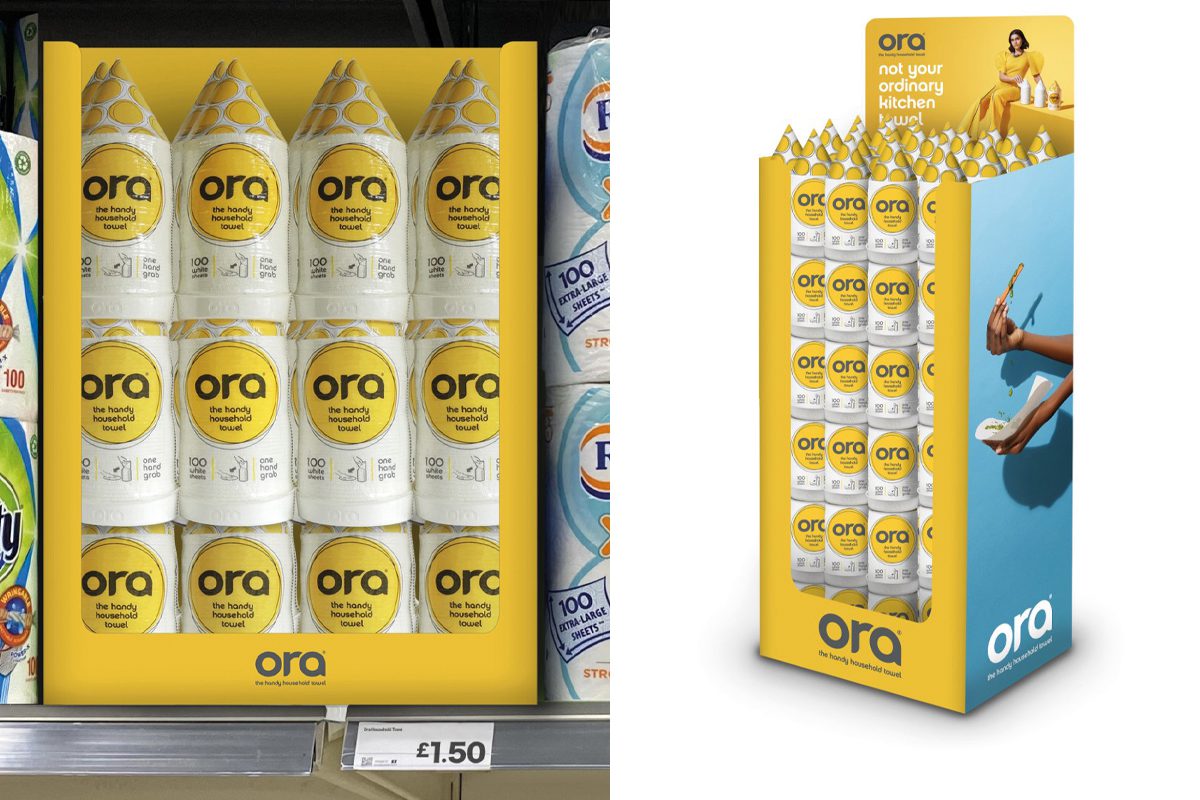 BRITISH FMCG firm Better All Round is gearing up for a household paper launch that co-founder Colena Mackenzie reckons will shake up the category.
Mackenzie – a Scottish entrepreneur, who founded Better All Round with husband Oday Abbosh – plans to launch its Ora Household Towels brand in Scotland in early 2022 as a unique proposition in the category. Ora Household Towels will be available in the convenience channel, and Better All Round has also secured distribution in Tesco.
Ora Household Towels can be taken with a one-hand grab, a USP which Mackenzie reckons sets the brand apart from the competition.
"Kitchen towel hasn't changed since it first launched in the 1930's. It's useful but can also be wasteful – it's too easy to use more than you need and takes up a lot of space in transportation due to puffed out paper and an empty inner cardboard tube," she said.
Co-founder Oday Abbosh added that while kitchen towels are traditionally "not exactly the most beautiful thing in your kitchen," the pair were "eager to see if we could take the kitchen roll out from under the sink and reinvent it for the 21st century. So, Ora came to be."
Ora's one-hand grab mechanism works by allowing consumers to pull sheets of kitchen paper from the top of a cone, rather than by tearing from a roll.
It's not the only selling point for the brand according to Mackenzie and Abbosh, who said that with 100 sheets in a stack, "Ora takes up half this space without compromising customer value.
"Correspondingly, retailers can maximise the value of their shelf space by having more Ora product in the same space taken up by traditional twin packs.
"Ora can do this thanks to the round shape of the towels which stack into a cone shape, eliminating the need for an inner tube. Branded SRPs will make getting Ora onto shelf quick and easy," they said.
The brand is also targeted at eco-conscious consumers, as its portion control design aims to tackle unnecessary waste.
Better All Round manufactures its household towels using only renewable energy, while the bases included in each stack are made from the company's waste. Mackenzie and Abbosh also claimed that Ora's compact packaging results in fewer lorries on the road.
To support the launch of Ora, Better All Round plans to invest in an integrated marketing campaign to drive education around Ora's USPs through in-store displays and outdoor advertising.
Marketing plans include a Scotland-wide TV and digital advertising campaign, created by Edinburgh-based agency The Leith Agency – the firm behind a host of popular Irn-Bru campaigns.
Further support will come in the shape of a social media and PR campaign, including influencer engagement activity.
• Founded in 2012, Better All Round entered the FMCG sector with the launch of Ora Household Towel. The firm acquired Consuma Paper Products (formally Staples Disposables Ltd) in 2018.