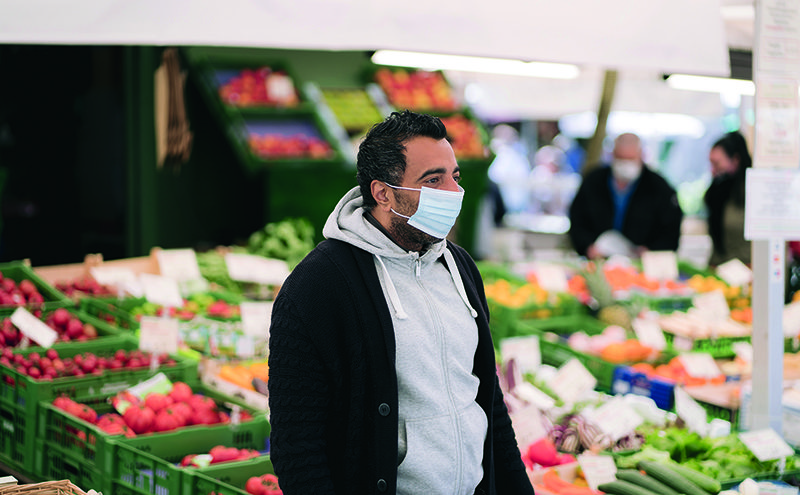 FACE coverings will be mandatory in Scottish shops this month, the First Minister has announced.
Nicola Sturgeon has confirmed that the new rule will come into force when Scotland enters stage three of the government's coronavirus re-opening route map – currently scheduled for 10 July.
Retailers will not be responsible for enforcing the new rules, the First Minister said, with that duty falling to Police Scotland.
Responding to a question from Tom Martin of The Express, Sturgeon said: "It is not something I think it is fair or reasonable to expect workers in shops to enforce, so police would be able in certain circumstances to impose fixed penalty notices, but the police will enforce these things very sensitively and proportionately, and I recognise very readily that this is not the easiest thing for the police to enforce either, which is why all of us can help by doing this voluntarily even although it is going to be backed up by law."
Scottish Grocers Federation head of public affairs Dr John Lee slammed the Scottish Government's approach, describing it as "not grounded in reality."
"The reality is that it is staff on the shop floor – or at the front door – who are on the frontline with this. Before the police are alerted, staff will have to make the initial challenge to customers who are not complying.
"They will either have to try to prevent a customer entering or ask a customer already in the store to replace their face covering. The main problem is that, in the time is takes for police to respond it is staff who will have to deal with any abuse from difficult customers – putting them under significant stress," he said.
David Lonsdale, director of the Scottish Retail Consortium, welcomed the decision not to place the enforcement burden on retailers and shop staff.
"We understand the enforcement of this policy on customers will not fall on hard-pressed shop staff, which is encouraging. Retail workers are already responsible for maintaining physical distancing and hygiene regimes in stores to keep customers safe.
"Leaving enforcement to the authorities should hopefully remove any potential risk of new frictions or flashpoints with customers. It's therefore very welcome that Scottish Ministers have listened to our representations and understood while retailers and their staff will work to support this measure, it won't be their legal duty to enforce it."
This article was amended at 16:21, 2 July to include clarification on enforcement.